Information about PCR Tests for International Travel from or to Japan
At present, you may be required to present a negative PCR test certificate upon entering any country or region due to the novel coronavirus (COVID-19) pandemic.
This page provides information on medical facilities offering PCR tests for customers traveling internationally from or to Japan.
Before using one of these facilities, please confirm the details regarding the facility and the relevant country's travel conditions.
Before Leaving Japan: PCR Test for International Travel from Japan
You will find information below on our partner medical facilities inside Japan where you can obtain a PCR test certificate for international travel from Japan.
For the latest travel conditions, please check the relevant information provided by the Ministry of Foreign Affairs of Japan's overseas safety homepage, the embassy/consulate at your destination, the health authorities, etc.
This link will direct you to an external site. Some third-party programs may not run due to browser environment. The personal information protection policies and terms of use of the respective sites will apply.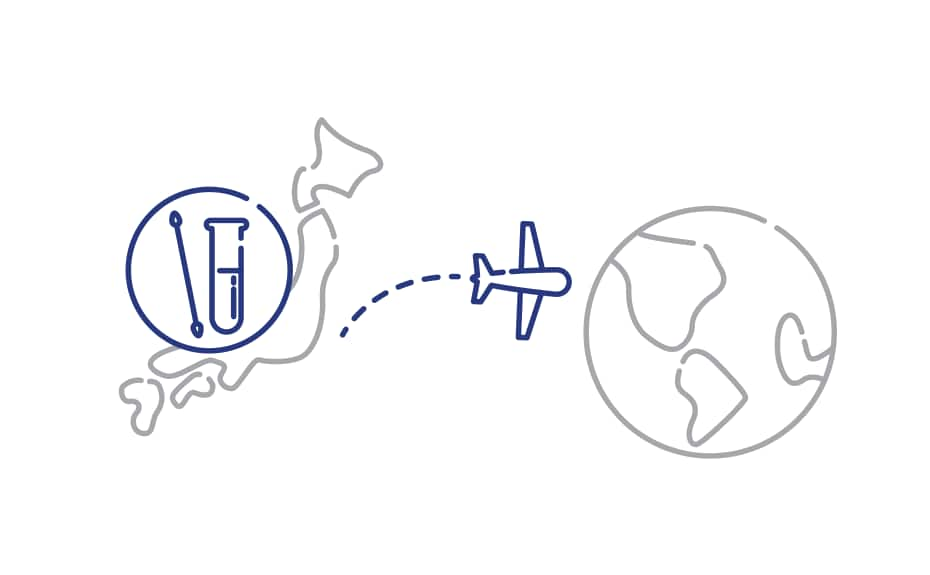 Partner Clinics inside Japan
The link for each clinic will take you to an external website, and any procedures that are performed thereafter will result in a contract being made directly with the relevant clinic.
If you have any questions about PCR tests, please contact the relevant clinic directly.
A negative PCR test certificate issued by one our partner clinics will not guarantee entry to another country. Please be sure to confirm the applicable entry conditions, etc. yourself.
Mita Kokusai Building Clinic and clinic nearme(T Care Clinic) can provide valid negative certificates for international travel on the same day of the test. Please check your flight schedule and make a reservation.
Test fee: 33,000 yen (including tax), Negative certificate 5,500 yen (including tax). Reservations can be made by phone or through the website.
Prices for China and Hawaii are different. Please refer to the clinic website for details.
Available in multiple languages such as Japanese, English, Chinese, Korean, Vietnamese, French, Spanish, Portuguese, Russian.
Reservations can be made by phone or through the website. Test fee: 22,000 yen (including tax and negative certificate).
Please be informed that PCR tests for entering China has been temporarily suspended for three months, starting from February 28, 2022.
*1.

Test fee: JPY 16,060 (includes tax, negative test certificate and postage) (Tests cannot be booked by phone. This price is available for those making a reservation from the link above. Online PCR testing is conducted only in Japanese.)
The service does not support travel to China.
Before Entering Japan: PCR Test for International Travel to Japan
You will find information below on our partner medical facilities outside Japan where you can obtain a PCR test certificate for international travel to Japan.
All passengers entering Japan (including Japanese and non-Japanese nationals) are required to present a negative COVID-19 test certificate for a test taken within the 72 hours before departure. (For the "within the 72 hours," the time must be counted from the specimen collection to the departure time of your flight.)
For the latest travel conditions, please see the Ministry of Health, Labour and Welfare website, etc.
This link will direct you to an external site. Some third-party programs may not run due to browser environment. The personal information protection policies and terms of use of the respective sites will apply.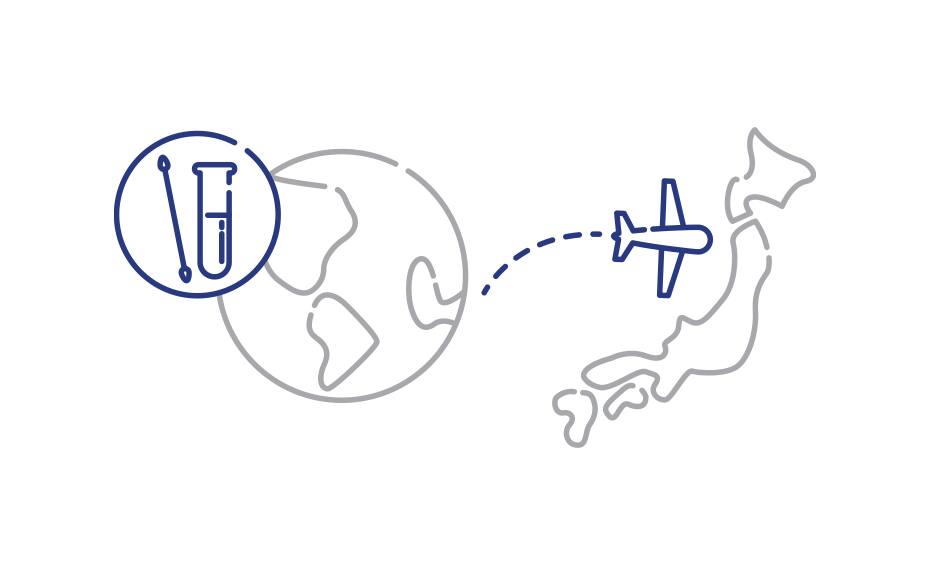 *1.

The link for each clinic will take you to an external website.
After you have been taken to the external website, the terms and conditions and the privacy policy of that website will apply.
Any provision/usage contracts that are concluded for the optional tour products that are shown on the external websites will be between the customer and VELTRA. ANA is not liable for any trouble or injury/damage/loss relating to the usage of these products.
Please confirm the details above before visiting any of the external websites linked below.
Information on Hotels, Public Transport and Wi-Fi Rental for Passengers Arriving in Japan