Launch of New Service
[Sweden]
ANA will launch its first Scandinavian route with direct flights from Tokyo Haneda Airport to Stockholm, Sweden (Arlanda Airport)! Travel in comfort for business or sightseeing with an ANA airfare to Stockholm. Experience the excitement of traveling from Sweden onto Scandinavia!
News

The new service to Stockholm, Sweden (Arlanda Airport), which was scheduled to start on June 6, 2020 is postponed.Accordingly, air tickets and tours sales are temporarily suspended.Information will be given once new service and sales start dates have been determined.
Travel Theme
What kind of place is Stockholm?
Stockholm is the capital city of Sweden, the largest country in Scandinavia. It is also Scandinavia's largest city. Consisting of 14 islands of various sizes, it is known as the Venice of the North. As well as its abundance of water, surrounded by lakes and the sea, you can enjoy the wonders of nature on the rich green islands. Enjoy Scandinavian furniture and design, take in the beautiful scenery...Fly with ANA to Stockholm to enjoy its many charms.
Travel Theme
Encounter its history
Gamla Stan, Sweden's old town, features beautiful medieval streetscapes and is one of Stockholm's most famous historical sites. The area attracts tourists from all over the world who enjoy taking photographs of its retro, yet colorful, streets. Stockholm's City Hall, with its sweeping views of the city, is a must-see! Join in a tour of City Hall's interiors and you can see The Golden Hall (Gyllene Salen), where the banquet to honor the Nobel Prize recipients is held. Or board a boat and tour the city's many interesting spots.
Travel Theme
Encounter its culture
If it's shopping you are after, one enjoyable pastime is to check out the Scandinavian-style furniture and everyday goods. You will encounter the clever designs that make the long winters more comfortable. Add authentic Scandinavian design to your own style, with furniture that, while simple in design, exudes the warmth of wood, or unique interior decor items to brightly adorn the room.
Travel Theme
Encounter the food
Swedish cuisine has an abundance of seafood dishes, befitting its location surrounded by the sea and the lakes. The traditional Swedish cuisine, smörgåsbord, featuring a range of hot and cold dishes prepared in various ways, is particularly recommended. Enjoy the culture that is the origin of the buffet, known in Japan as "Viking." Another element of Swedish food culture not to be missed while in Stockholm is "Fika," the Swedish mid-afternoon coffee break. Find your favorite cafe to indulge in this uniquely Swedish pastime.
*Sample images.
Flight Schedule and Aircraft
| Flight Number | Departure Time | Arrival Time |
| --- | --- | --- |
| NH221 | Tokyo (Haneda) 09:40 | Stockholm 13:00 |
| NH222 | Stockholm 14:20 | Tokyo (Haneda) 07:10 (next day) |
Departure/arrival times: Shown in local time.
Subject to authorization from the relevant authorities. Flight schedules and aircraft are subject to change without prior notice.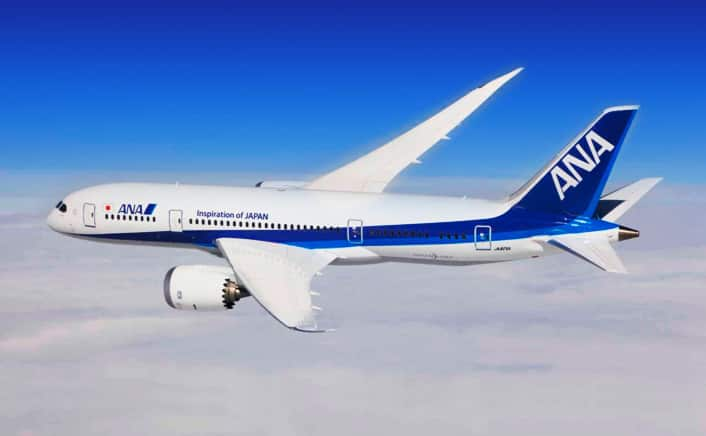 Aircraft: Boeing 787-8 (184 seats)
Business Class: 32 seats
Premium Economy: 14 seats
Economy Class: 138 seats
Fly with ANA to Stockholm, the new gateway to Scandinavia. A greater variety of transfer options.