Launch of New Service
[Italy]
ANA will launch direct flights from Tokyo Haneda Airport to Milan Malpensa Airport! Travel in comfort for business or sightseeing with an ANA airfare to Milan, Italy. Milan is a city that overflows with fashion and food in infinite variations, from traditional to cutting-edge styles.
News

The new service to Milan Malpensa, which was scheduled to start on April 20, 2020 is postponed.
Accordingly, air tickets and tours sales are temporarily suspended.
Information will be given once new service and sales start dates have been determined.
Travel Theme
What kind of place is Milan?
Milan is the largest city in northern Italy. Once a flourishing commercial center and Italy's second largest city, in recent years, the city has focused on tourism. In 2019, the number of tourists visiting Milan, at 9.1 million, exceeded those visiting Rome, making it the16th most popular city in the world. *1 Its popularity as a city of fashion, and a city of history and art, is sure to keep growing.Fly with ANA to Milan, the city that blends historical art with leading-edge fashion.
*1 Reference:Business Insider
Travel Theme
Encounter the arts
Milan Cathedral (Duomo di Milano), a masterpiece of Gothic architecture. See the beautiful stained glass windows of this magnificent church, which was built over a period of 500 years from 1386, and the Madonnina statue that watches over the city. From the Duomo, venture a little further out to the Galleria, a famous shopping arcade with an arched glass roof, and to La Scala opera house.
Travel Theme
Encounter the customs of another country
Milan is the city of the aperitivo. Aperitivo is the custom of enjoying a light meal and drink before dinner. The usual practice is to enjoy a glass of wine or Spumante (sparkling wine) with canapes or other small snacks. Here in Milan, however, as well as small bites such as prosciutto and cheese, you can enjoy a more substantial meal, including pasta, meat dishes, and dolce, or dessert. The food is so delicious, that you may find yourself eating too much and it might end up taking the place of dinner. You may prefer take this aperitivo time beyond the realms of a light pre-dinner snack and drink and turn it into dinner time itself, a time to eat and drink heartily.
Travel Theme
Sense the glamorous atmosphere
Milan is a city in which you can gain a sense of fashion just by looking at people walking down the street. The city is packed with shopping streets, lined with shops with window displays that are fun just to look at. Lately, the spotlight is being focused not only on the latest trends, but also on the fashion of the past, with re-makes and vintage fashion enjoying a boom in popularity.
*Sample images.
Flight Schedule and Aircraft
| Flight Number | Departure Time | Arrival Time |
| --- | --- | --- |
| NH207 | Tokyo (Haneda) 00:55 | Milan (Malpensa) 06:20 |
| NH208 | Milan (Malpensa) 12:10 | Tokyo (Haneda) 07:00 (next day) |
Departure/arrival times: Shown in local time.
Subject to authorization from the relevant authorities. Flight schedules and aircraft are subject to change without prior notice.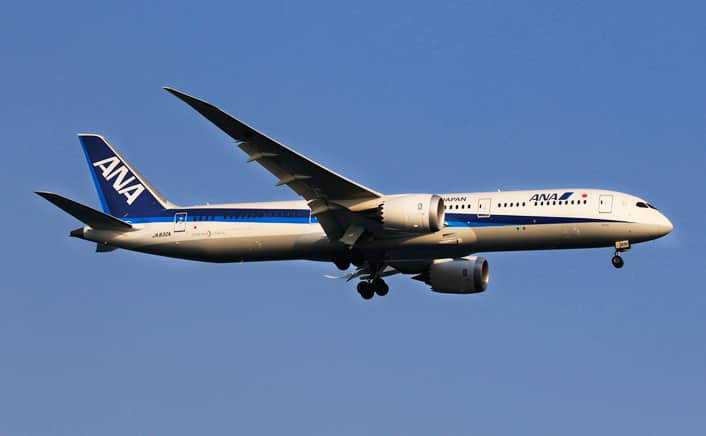 Aircraft: Boeing 787-9 (215 seats)
Business Class: 48 seats
Premium Economy: 21 seats
Economy Class: 146 seats
Fly with ANA to Milan, the metropolis in Italy's north that blends historical art with leading-edge fashion.