"Tastes of JAPAN by ANA" is a regional vitalization project that collaborates with the different prefectures in Japan to present the Land of the Rising Sun in all of its diverse glory.
Savor the fragrance of the thousand blooming plum trees in Sakata Castle of Chiba Prefecture
Sakata Castle Plum Grove is one of the most famous groves in Chiba with around 1,000 large plum trees aged 50 years. As the crisp white flowers come to full bloom all together, their wonderful fragrance fills the air. The Sakata Castle Plum Festival is held around the time the flowers bloom, and plum pickings are held when they bear fruit, both attracting many visitors every year.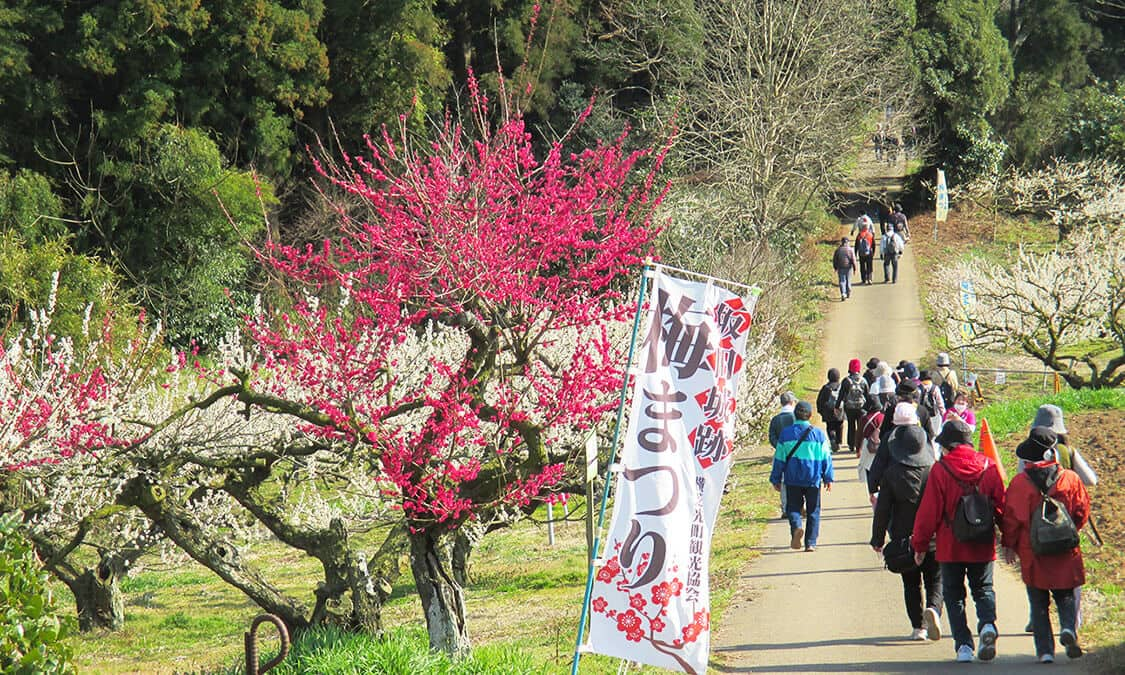 About the Sakata Castle Plum Grove
Founded approximately 400 years ago by the Chiba family, Sakata Castle is one of the most valuable castle ruins in the prefecture for preserving the clay fort and waterless moat in their original conditions. Past these structures in the cedar grove are the old, yet well-maintained plum grove, which was created through the cooperation of local farmers when the agricultural land of Sakata Castle was re-zoned around 50 years ago.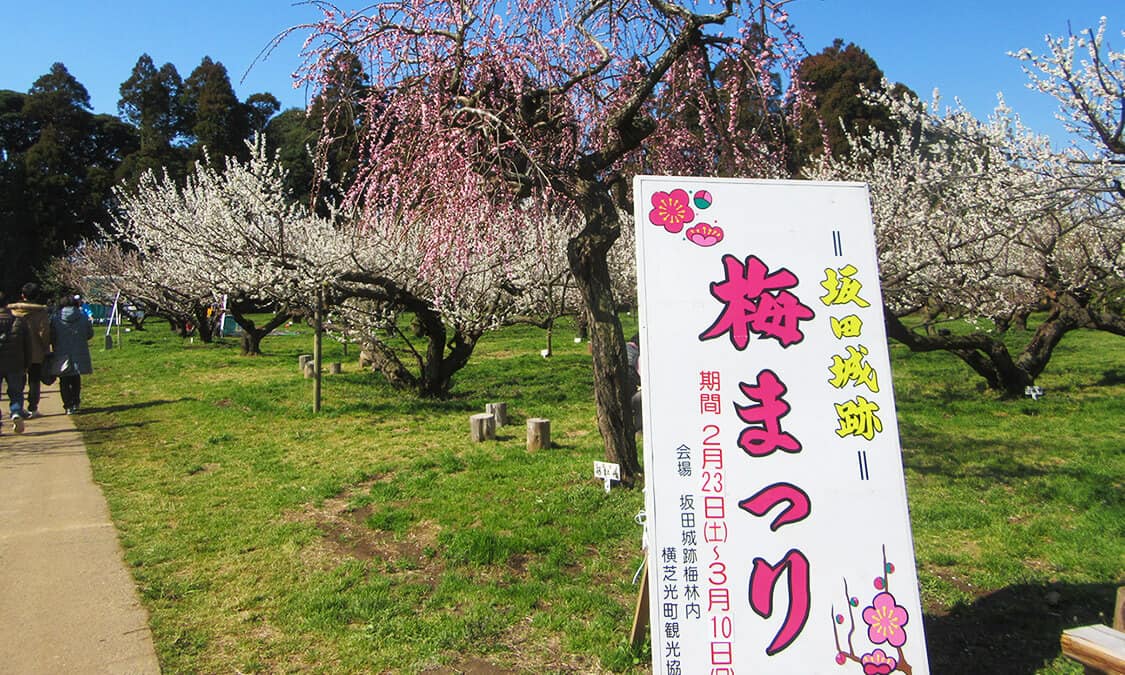 Sakata Castle Plum Festival
The festival is held during the plum flower blooming season from late February to mid-March, and visitors can explore the plum grove maintained by local plum farmers as well as shop for their homemade plum products. At the main venue on Saturdays and Sundays, the festival is in full swing with food stalls selling amazake sweet rice drinks, baked sweet potatoes and other light meals, as well as events such as the plum seed spitting contest.
In early June every year, visitors can experience picking plums with the cooperation of local plum farmers. Participants can interact with the farmers and enjoy picking until their baskets are full of ripe plums.
Location
Name
Sakata Castle Plum Grove
Web Sites
(In Japanese) https://yoridokoro.chiba.jp/article/191/
Address
Sakata, Yokoshibahikari-machi, Sanbu-gun, Chiba
Access
Approximately 45 minutes' walk from Yokoshiba Station on the JR Sobu Main Line
Approximately 10 minutes' drive from Matsuo-Yokoshiba IC on the Ken-odo Expressway
Inquiries
TEL: 0479-74-8585 (Yokoshibahikari Town Tourist Association)