EASTERN HOKKAIDO
Lovely scenery as far as the eye can see

Freely accessible from Tokyo

Mt.Taisetsu: The ropeway terminal is a 50-min bus ride
from Asahikawa Airport

Resplendent nature available nowhere else

Freely accessible from Tokyo

Shiretoko drift ice: A little over an hour by car
from Nakashibestu Airport

EASTERN HOKKAIDO is the destination for winter

Freely accessible from Tokyo

Kushiro-shitsugen National Park: Approx. 40 min by car
from Kushiro Airport
Have a luxurious time touring the city
then enjoy the even more valuable grand nature of the area
From the abundance of scenery offered by the Great Outdoors, to the resilient creatures that survive through the harsh winters, to the entertainment created by the humans that co-exist with this nature, winter in EASTERN HOKKAIDO is your ticket to adventure.
TOKYO
Ginza

Shopping/
gourmet cuisine

Akihabara

Culture/
electric products

Shibuya

Surging crowds

Shinjuku

The Megacity
After you've had your fill of Tokyo, depart from Haneda Airport
to a more distant place where you can experience nature like no other -
EASTERN HOKKAIDO awaits.

ANA's domestic route network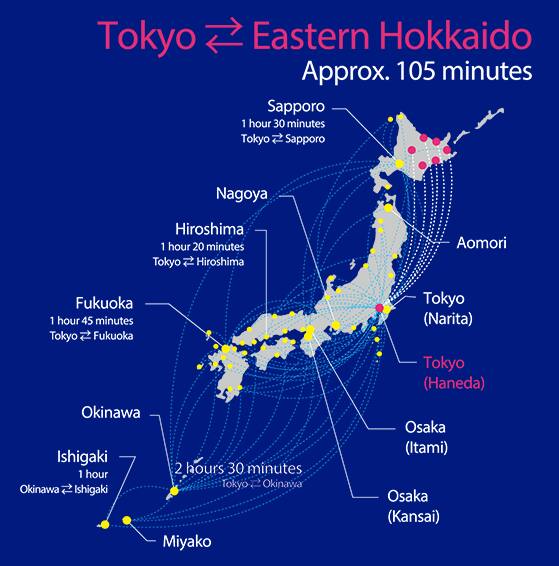 EASTERN HOKKAIDO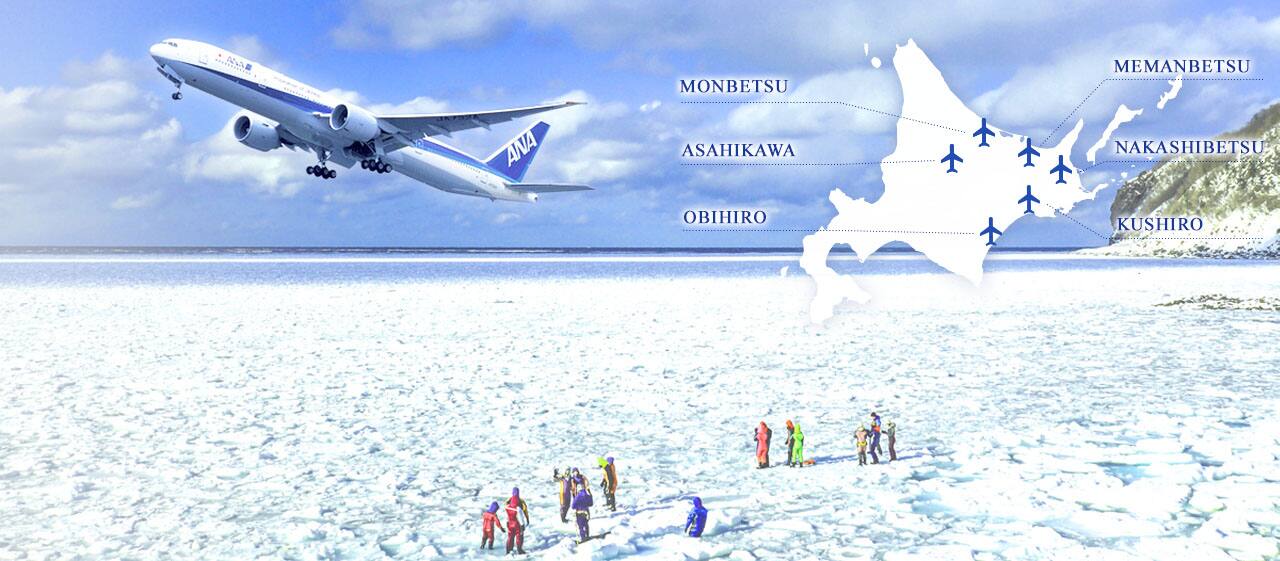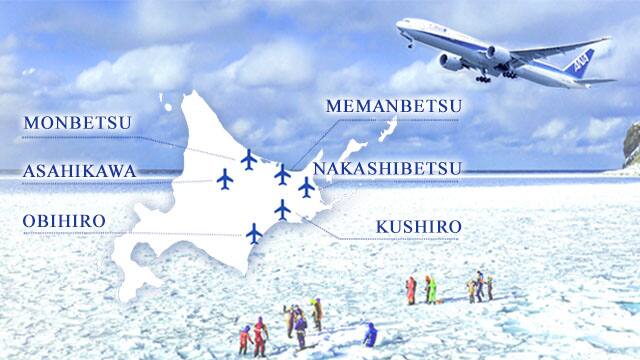 The beauty of EASTERN HOKKAIDO, lush with nature
EASTERN HOKKAIDO is a vast and naturally-rich region.
There are various airports in the region that allow direct access from Tokyo.
There are tourist destinations available from the six airports of the region:
Monbetsu, Memanbestu, Asahikawa, Nakashibetsu, Kushiro, and Obihiro.
ALL

Monbetsu

Memanbetsu

Asahikawa

Nakashibetsu

Kushiro

Obihiro
ALL
ALL
Monbetsu
Memanbetsu
Asahikawa
Nakashibetsu
Kushiro
Obihiro
Asahikawa

Daisetsuzan National Park

Daisetsuzan National Park

Asahikawa

Daisetsuzan National Park was designated as a national park in 1934. It's said that the reason for designation was the region's vast expanses of untouched mountain environments. With a number of mountains over 2000 meters high such as Mt. Hokuchin, Mt. Hakuun, Mt. Kuro, and Hokkaido's highest peak of Mt. Asahi, the harsh environment has doubtlessly helped keep human hands away from these natural environments.

Memanbetsu

Drift ice walk/ diving

Kushiro

Akan International Crane Center Grus

Akan International Crane Center Grus

Monbetsu

Drift Ice Breaker Garinko-go II

Drift Ice Breaker Garinko-go II

Monbetsu

This is a full-impact drift ice cruise where the boat moves ahead while breaking apart the blocks of ice with a large screw at the front. The cruise starts and finishes at Monbetsu. The February-only sunrise/sunset cruise, in which the ice is bathed in orange light, is an essential sight.

Memanbetsu

Smelt fishing

Memanbetsu

Winter in Hokkaido is harsh. Winter in eastern Hokkaido is especially harsh. The lakes which were once filled to the brim with water have now frozen over. Just walking on that thick iced up surface wouldn't cause it to break. On the surface of such lakes, there are places where you can enjoy smelt fishing.

Obihiro

Lake Shikaribetsu Kotan

Obihiro

The Lake Shikaribetsu Kotan is a fun-filled spot that appears on the frozen lake surface during the severe winter period. Kotan means "village" in the Ainu language, and this village - made out of snow and ice - features an ice bar and outdoor hot bath on the ice, to enable visitors to enjoy the pleasures of living in frozen land.

Asahikawa

Hyobaku (Ice Waterfall) Festival

Hyobaku (Ice Waterfall) Festival

Asahikawa

Winter, when even the waterfalls that flow from the sheer cliffs freeze. The Hyobaku Festival is an event that's representative of winter in Sounkyo. Ice columns, tunnels and domes - sculptures created in their most natural form on the banks of the Ishikari River. In the daytime the natural forms sparkle in the sunlight, at nighttime they're floodlit in a multitude of colors to create a mystical scene.

Monbetsu

Okhotsk Tokkari Center

Monbetsu

"Tokkari" is the Ainu word for "azarashi" (earless seal), and as the center's name would imply, this facility specializes in sheltering and conservation of earless seals. Visitors can observe the natural ecology of these graceful seals, and even take part in close-up interactive activities. All the while, the center serves as a conservation facility, treating earless seals that have been injured or caught in fishing nets, and returning them home to the ocean. The Okhotsk Tokkari Center holds and extremely important role as Japan's one and only marine animal conservation facility.

Memanbetsu

icebreaker ship Aurora/Aurora 2

icebreaker ship Aurora/Aurora 2

Memanbetsu

Enjoy a drift ice cruise centered around Abashiri while the ship breaks through the ice. We recommend taking in a view to the horizon on the Observation Deck, or getting a more up-close view of the drift ice from the Side Deck on the first floor.

Asahikawa

Asahiyama Zoo

Asahikawa

"Welcome!" Step inside this marvelous zoo and enter an amazing world of animals. Penguins soar through the water as if flying, and polar bears dive with a mighty splash! Orangutans display masterful balance and grace on ropes and nets. Wolves howl in the distance. Now nationally famous, Asahiyama Zoo has revolutionized the zoo experience throughout Japan by installing displays to maximize the natural ecology and behavior of each animal. The lively animals create vivid new scenes every day. How about a visit to this very special world?

Monbetsu

Monbetsu Drift Ice Festival

Monbetsu Drift Ice Festival

Monbetsu

This popular ice sculpture festival features projection mapping. The incredible main stage that looks like a building is an essential sight. It's a special day that also features barbecues and fireworks.

Kushiro

Akan Frozen Lake Festival ICE AKAN "Fuyuhanabi"

Akan Frozen Lake Festival ICE AKAN "Fuyuhanabi"

Kushiro

An event packed with winter fun, including snowmen, igloos, mini-games, Lake Akan ice cutting, etc. Numerous ice and snow sculptures decorate the venue of the frozen surface of the lake. The sparks from the fireworks that rise above the pure white world of ice create a truly impressive site to behold.