10,000 azalea trees in full bloom at Japan's top azalea park
Located in Tatebayashi, Gunma Prefecture, Tsutsujigaoka Park displays around 10,000 azalea trees of over 100 varieties, including an ancient mountain azalea tree that said to be about 800 years old. The Tatebayashi Azalea Festival is held for around a month from mid-April when the azaleas are in full bloom, hosting various fun events for visitors. During this time, crossing boats operate in the Jonuma Pond adjacent to the azaleas, providing a rare view of the bright blossoms from the waters.
Tsutsujigaoka Hill, a recognized place of scenic beauty
Located in the eastern part of the park, Tsutsujigaoka Hill is designated as a National Place of Scenic Beauty and serves as the venue of the Tatebayashi Azalea Festival. Locals refer to the hill as Hanayama (flower mountain), and as the name implies, the hill becomes absolutely covered in colorful azalea blossoms from mid-April to early May. In addition to their abundant variety, many of the trees are giant and ancient, stirring feelings of amazement in all visitors.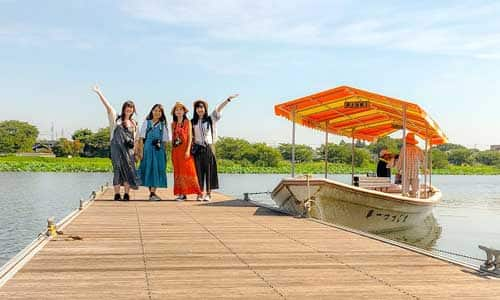 Jonuma Pond, located adjacent to the park, is renowned for its large lotus blossoms that cover the water surface in the summer. The Lotus Flower Festival is held during the blooming season, and visitors can observe the beautiful blossoms up close on the Lotus Flower Cruise, only operating during the festival period.
Morin-ji Temple is the setting of the famous Japanese folktale Bunbuku Chagama starring a raccoon dog that was said to have magically transformed into a kettle and brought good luck. Visitors are greeted by 25 raccoon dog statues as they walk through the mountain gate, and can enjoy viewing the temple's delightful collection of Bunbuku Chagama and other adorably expressive raccoon dog items.
Location
Name
Tsutsujigaoka Park
Website
https://www.city.tatebayashi.gunma.jp/tsutsuji/english.html
Address
3278 Hanayama-cho, Tatebayash-shi, Gunma
Access
Approximately 30 minutes' walk from Tatebayashi Station on the Tobu Isezaki Line
Business Hours
7:00 to 17:00 (During the Azalea Festival only)
Closed
None
Inquiries
TEL: 0276-74-5233
Admission
Free
Fees apply during Azalea Festival, depending on the blooming condition.