"Kaze-no-Tabi", fair walk on Kuju Plateau
Fairwalk is...
Some time ago, Kuju Plateau was stored so that the trees did not grow thick. Grazing and burning by locals, etc. To protect the beautiful scenery of the Kuju plateau.
"Kaze-no-Tabi" is part of a tour aimed at financing pasture management, so everyone who participates in this tour will be "friends protects the plateau" (fair exchange fees). It is hoped that "people who travel here" and "people who live here" will have "fair relations" during the trip, the Kaze guide actively tells about their local life.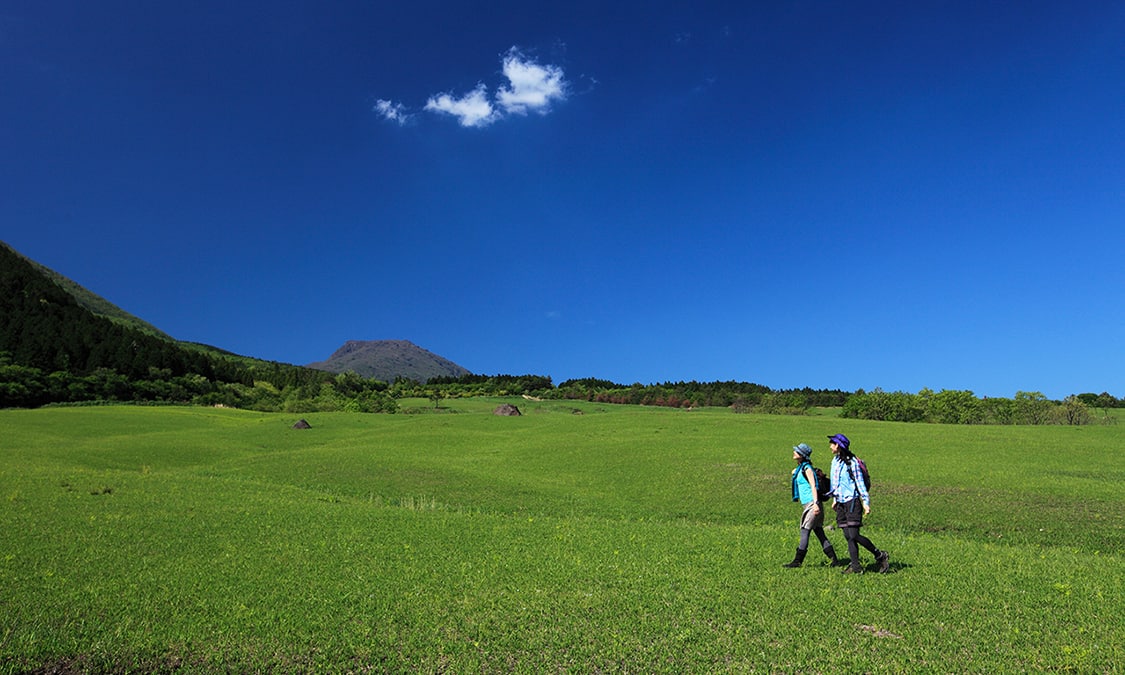 The origin of Kuju Plateau
Kuju Plateau is the "pyroclastic flow plateau" which was formed after several eruptions of Mount Aso and Mount Kuju volcano that occurred tens of thousands of years ago. It was filled with a large amount of pyroclastic flow deposits and become the massive plateau that we know currently that continued to the caldera of Mount Aso. The scenery of Kuju Plateau is wonderful! That's because the "grassland" is kept by local people so that the trees will not grow. In fact, "noyaki" (burn off in the field) which is held in March every year is to protect this grassland. By participating in the tour, visitor will be able to feel the lives of locals who live in Kuju even though they are a tourist.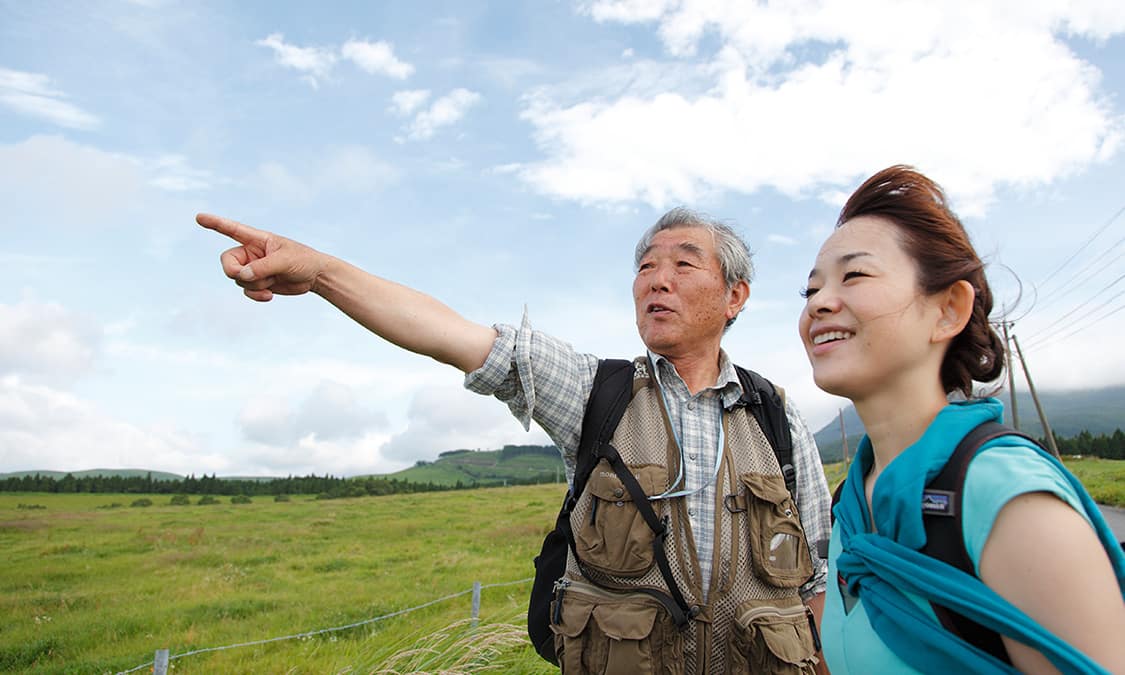 In the "Kaze-no-Tabi", local "Kaze guides" provided by Taketa City Tourism Association will guide each course. While explaining the history of Kuju, nature such as mountains, flowers, water, etc., and the lives and cultures of local people, visitor will feel the experience that delights your five senses.
Impressed your feeling on "Superb Hill Course"!
When visitor emerge from the Japanese cedar woods and the virgin forest, the viewpoints just keep coming. The climax of the tour is waiting for a superb perspective at the "Tenku-no-Oka" (hill of heaven) where you cannot go by car!!
Walk well and cultivate your spirit on "Mysterious Country course"!
In the park that fascinated the lord of the castle in the past, by touching the big trees and drinking the water to restore the energy in your entire body. Aiming for "Kami-no-Ki" (Forest of the God) and "Kami-no-Mizu" (Water of the God) that hidden in the cedar forest in the hamlet!!
Tickle your curiosity on "Fascinating Forest Course"!
Forest, stream, grassland, spring water were packed as Kuju's charm. After relieved your thirst with water, go to the forest where the flowers await. There are mountain cherry trees, stream and plain grasslands, this course will give you a various faces of Kuju Plateau. It is a treasure that tickles your curiosity.

Location
Name
Kuju Plateau
Web Sites
(In Japanese) https://www.taketan.jp/kazenotabi/index.html
Address
Kuju-machi, Taketa-shi, Oita
Business Hours
May vary depend on the course. For detail, please check website or contact Taketa City Tourism Association
Inquiries
TEL: 0974-63-0585 (Taketa City Tourism Association)
Location of the Event
Guernsey Farm, 4004-56 Kuju, Kuju-machi, Taketa-shi, Oita
Period of the Event
9:30 *1
*1 Application by 16:00 three days prior to the day of the tour.
Admission
Adults (High school students and above): 2,000 yen; Children (Elementary and junior high school students): 1,000 yen