Himeshima-mura is the only village in Oita and is also the only village on the island of Himeshima. This island is located five kilometers off the coast of Kunisaki Peninsula in Oita on the western edge of the Seto Inland Sea. It has a perimeter of 17 kilometers and a population of approximately 2,000. Himeshima has a long history, and is mentioned in such ancient texts as the Kojiki (Record of Ancient Matters) and Nihonshoki (Chronicles of Ancient Japan).
Himeshima-mura offers many charms, including the Seven Wonders of Himeshima for sightseeing fun, Himeshima Swimming Beach to enjoy the sea, delicious foods such as kuruma shrimp, and the Himeshima Blue Line for cycling along the shore.
Himeshima Bon Odori (a style of dance performed during Obon) is said to have started as a Buddhist ritual dance during the Kamakura era (1185–1333), and is comprised of traditional and creative dances. Traditional dances include the Kitsune Fox Dance, the Aya Dance, the Zendaiko Drum Dance, and the Sarumandayu Dance. These dances have been passed down from generation to generation among the people and the children living in the area. New creative dances are also being continuously born, which entertain spectators with their sense of humor and their elaborate costumes. Dancing events are held around the central plaza and the bon odori dancing sites located in different areas. Note: Please see the Himeshima bon odori website listed in the PICK UP.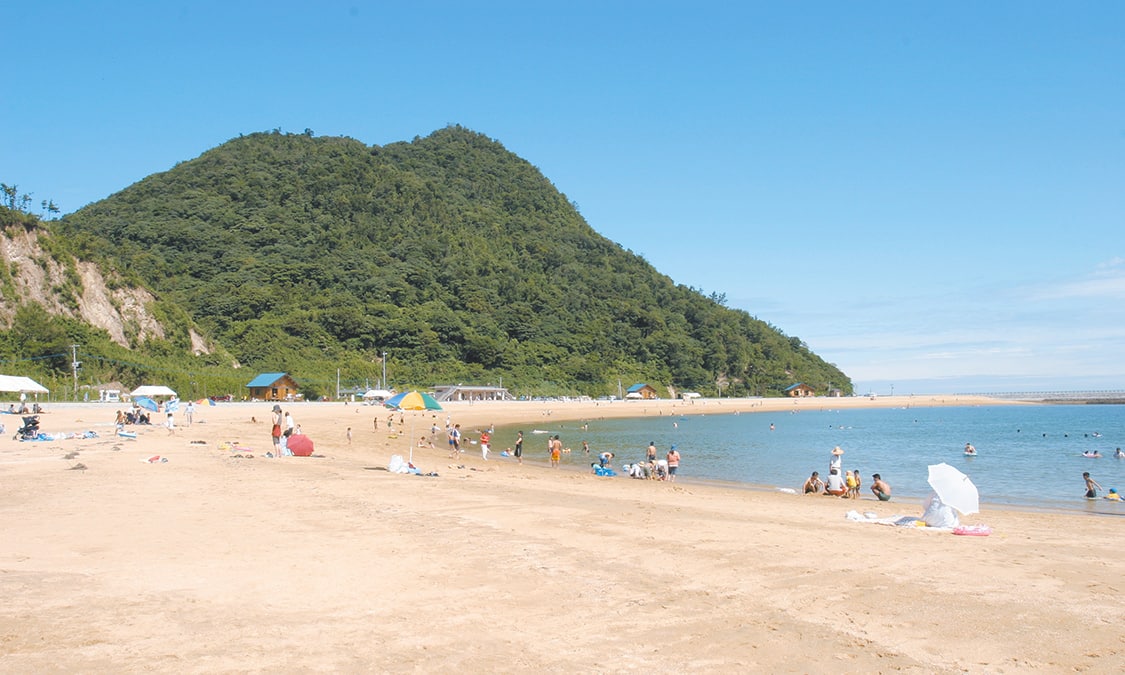 Himeshima Beach has the most beautiful, largest sandy beach on the island. The shoreline, with its bow-shaped arc that extends for 500 meters, offers a stunning scenic view of its pristine waters. The beach offers a lineup of convenient facilities, including a management building, toilets, lockers, shower stalls, and resting facility. The beach is open from July 1 to August 31. The Himeshima Beach Soccer Competition is held here in July, which also serves as Oita's preliminaries for the Beach Soccer Kyushu Championship. Also, in August, there is the Himeshima Triathlon Competition where participants can take in all the attractive features that Himeshima has to offer. A popular camping site is situated adjacent to the beach.
When people think of Himeshima, they think of kuruma shrimp The village started cultivating kuruma shrimp by using the remains of salt pans. This has now become a core industry for the village along with coastal fishing. Shrimp from this island are known throughout Japan by the name of Himeshima kuruma shrimp.
The recommended way of enjoying this Himeshima kuruma shrimp is shabu-shabu style. This method of enjoying the shrimp involves dipping it in hot water for just a few seconds. The delicious taste can also be enjoyed in a variety of ways, including eating the shrimp live, salt-grilled, deep-fried, and more.
Location
| | |
| --- | --- |
| Name | Himeshima |
| Web Sites | (In Japanese) http://www.himeshima.jp/kankou/ |
| Address | Himeshima-mura, Higashi Kunisaki-gun, Oita |
| Access | 45 minutes by car from Oita Airport, 20 minutes by ferry |
| Inquiries | TEL: 0978-87-2279 (Fishery, Tourism, and Commerce Division in the Himeshima Village Office) |