Weather Station Observatory in Chichijima, Ogasawara Islands
Enjoy nature observation on a tropical island designated as a World Natural Heritage site
The Ogasawara Islands are a group of World Natural Heritage islands about 1,000 kilometers south of Tokyo, consisting of around 30 islands of various sizes, including the inhabited islands of Chichijima (father island) and Hahajima (mother island). From Tokyo, you can reach Chichijima by ferry in about 24 hours. It is truly a tropical paradise, with the mountains nurturing indigenous species, and the ocean full of life with beautiful coral reefs, tropical fish, and dolphins swimming year-round and whales traveling to raise their young. At the Weather Station Observatory overlooking the western ocean in Chichijima, visitors can enjoy the many faces of Ogasawara, such as the deep blue ocean color known as Bonin Blue.
The Weather Station Observatory in Chichijima is the perfect spot for sunset gazing. Watch the lights glistening on the water on the horizon as the sun slowly disappears into the ocean. You may even witness the green flash, a phenomenon in which the sun appears to shine green light as it sets. As the dusk sky turns a gorgeous red, it naturally brings together both tourists and the island residents.
The Weather Station also offers an amazing stargazing experience. Following the sunset as the night falls, the sky turns glittery with a million stars. Here, you can even see the milky way during seasons other than summer. The starry sky of Ogasawara has been recognized as Japan's best night sky view of the year three times in the past (2011, 2012 and 2018).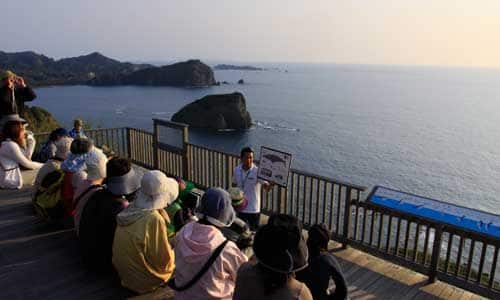 Since the Weather Station is located on a hill overlooking the ocean, it is a prime spot for whale watching from the land during January to April. If you are lucky, you may be able to see humpback whales in action, such as breaching and tail slapping.
Location
Name
Weather Station Observatory in Chichijima, Ogasawara Islands
Website
http://en.vill.ogasawara.tokyo.jp/
Address
Mikazukiyama, Chichijima, Ogasawara-mura, Tokyo
Access
Approximately 7 minutes' drive from Futami Port
From Tokyo to Futami Port in Chichijima, Ogasawara Islands, take the ferry (Ogasawara Kaiun Ogasawara Maru) for approximately 24 hours
Inquiries
TEL: 04998-2-2587 (Ogasawaramura Tourist Association)