Mount Kentoku Erin-ji Temple

"Tastes of JAPAN by ANA" is a regional vitalization project that collaborates with the different prefectures in Japan to present the Land of the Rising Sun in all of its diverse glory.
Feel the eternal history at Erin-ji Temple on Mount Kentoku
Established in 1330, Erin-ji Temple tells a rich history since the Warring States period (late 15th century to late 16th century). It is famous as the family temple of warlord Shingen Takeda, and on the 12th day of every month, his grave is open to the public, the same day of the month as the date of Shingen's death. There are many highlights in the temple precincts, including valuable historical buildings and a garden designated as a national scenic beauty. Experience the deep history of Japan while enjoying the beautiful seasonal scenery.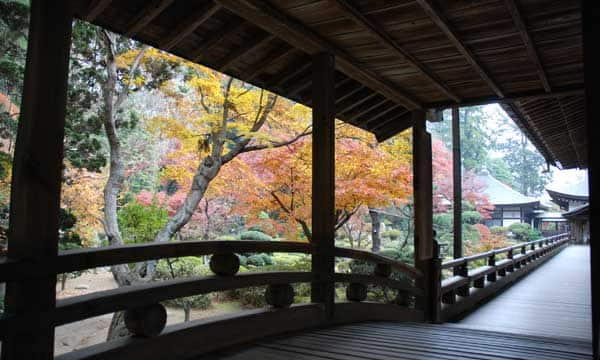 Erin-ji Temple Garden was created by Soseki Muso, a monk who was also a renowned garden designer. The picturesque garden is famous as his masterpiece alongside Tenryu-ji Temple in Saga and Saiho-ji Temple in Arashiyama, both in Kyoto Prefecture. Said to have recreated the appearance of nature, this beautiful garden with more than 700 years of history mesmerizes visitors with different scenes from season to season.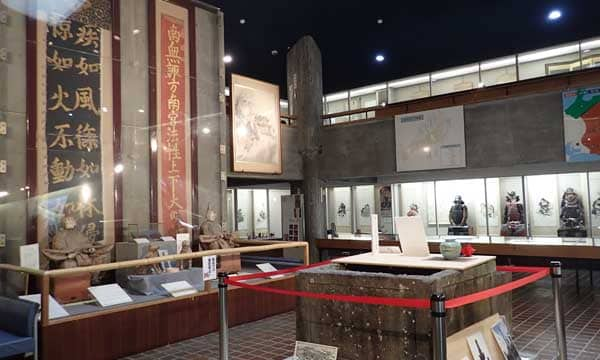 Historical Shingen-ko Treasure Museum
Shingen-ko Treasure Museum preserves, manages and publicly exhibits various cultural assets and materials related to Shingen Takeda. The permanent display includes Shingen's famous battle flag Furinkazan ("as fast as the wind, as quiet as the forest, as daring as fire and as immovable as a mountain") and his favorite kabuto war helmet, in addition to many gems that unravel the history of the Warring States period. Exhibits are regularly switched and special exhibitions are also held, so visitors can always encounter new treasures.
Location
Detail Information of Mount Kentoku Erin-ji Temple
Name
Mount Kentoku Erin-ji Temple
Web Sites
http://www.ykj.or.jp/en/erinji.html
Address
2280 Enzanoyashiki, Koshu-shi, Yamanashi
Access
From South Exit of Enzan Station on the JR Chuo Main Line, take the Nishizawa Gorge Bus bound to Erinji-mae bus stop
Business Hours
8:30 to 16:30
Closed
Open all year round
Inquiries
TEL: 0553-33-3011
Admission
Erin-ji Temple:
Adults: 300 yen; Elementary, junior high and high school students: 100 yen
Common pass for Erin-ji Temple and Treasure Museum:
Adults: 700 yen; High school students: 400 yen; Elementary and junior high school students: 200 yen
Detail Information of Historical Shingen-ko Treasure Museum
Name
Historical Shingen-ko Treasure Museum
Web Sites
(In Japanese) https://shingen.iooo.jp
Address
2280 Enzanoyashiki, Koshu-shi, Yamanashi
Access
From South Exit of Enzan Station on the JR Chuo Main Line, take the Nishizawa Gorge Bus bound to Erinji-mae bus stop
Business Hours
9:00 to 17:00 (Last admission: 16:30)
Closed
Thursdays from December to March.
Please contact the museum for year-end and New Years closing dates.
Inquiries
TEL: 0553-33-4560
Admission
Adults: 500 yen; High school students: 400 yen; Elementary and junior high school students: 100 yen