Nozomi will be all right.
Struggling through the darkness.
As an athlete, Nozomi Okuhara has seen some tough times. In 2019, injuries, a loss of confidence, the inability to win crucial matches, and harsh words from the media resulted in what she called a year of "total darkness." Today, like top athletes everywhere, she must train in the shadow of a global pandemic. So how does she do it? How does she keep going when the way forward is so difficult? Simply, she draws strength from those who believe in her. "Even when I thought there was no possibility of success, I would hear the people around me saying, 'She'll be all right.' Even when there was nothing to back up their words, they'd whisper, 'Nozomi can do it.'" This steady show of support made all the difference. "Those simple words of affirmation kept me afloat."
During a particularly difficult stretch, one comment stood out from the others: "Nozomi's strength, her great footwork, and her ability to make it to the finals of every tournament is proof of her improvement." This thoughtful evaluation shone like a beacon in the darkness. It was exactly the sort of reinforcement the struggling athlete needed to hear, and it inspired Nozomi to see herself in a positive light. "Even when things are tough," she realized, "if you understand and see your strengths, then you can believe in yourself and have the courage to persevere." At last, she was able to embrace the encouraging words she'd so often overheard: "Nozomi will be all right."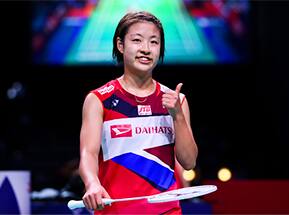 Professional badminton player
Born in 1995 in Nagano prefecture. In 2016, won the 106th All England Open, the first Japanese player in 39 years to do so. At the Rio Olympics, took the bronze in the women's singles, becoming the first Japanese woman ever to medal in this event. Ranked fourth in the world (March 2021). Affiliated with TAIYO HOLDINGS.