Tokyo 2020
Other than a gold medal, Daiya's stated goals for 2020 include being a competitor from the host country who inspires swimmers from overseas to discover special places in Japan and helps them to feel good about his country. In part, he sees this as returning the warm welcome he has received abroad.
"When I travel overseas, I usually don't have a chance to do anything except go back and forth between the pool and the hotel," he explains. "If I'm at overseas camp, though, I try to absorb as much of the local atmosphere as my time and physical condition will allow. That's when I rely on athletes from the host country. I ask swimmers I know from competitions to recommend restaurants and I'll go to them.
"As an athlete from the host country, in 2020 I want to tell overseas competitors about good restaurants, great places to visit and other things that will help them. They've come a long way, so I want them to have a fantastic time and take home the best impression of Japan."
(Interviewed by Yumiko Yanai)

ANA Communication Board:
For smoother communication in airports and planes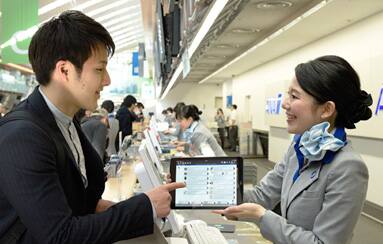 Like Daiya Seto, Japanese people going abroad and international visitors to Japan are often concerned about communicating properly in unfamiliar surroundings. At ANA, our network has expanded to 42 countries and regions, so many more customers now use languages other than Japanese or English. In some areas, as many as 80% of passengers speak only local languages. This can lead to uncomfortable situations in which people find it difficult to ask questions or make requests.
When a customer chooses to fly with ANA, we want them to enjoy a comfortable trip without such difficulties. This priority led to the introduction of the ANA Communication Board tablet computer in June 2016.
As a preliminary step, we received input from customer service representatives, cabin attendants and other staff who interact with customers on a daily basis, recording phrases that are frequently used at airports and in the cabin. We also catalogued typical questions and answers concerning seat preferences, immigration forms and how to confirm orders for special meals. The wealth of content subsequently developed for the tablet allows us to deal with a wide range of scenarios, including emergency response and helping passengers who feel unwell.
The ANA Communication Board features 17 languages used in the destinations we serve. The device also enables smooth communication with many different kinds of passengers, including those with speech or hearing impairments. We do this by complementing text and audio with pictograms that customers from around the world can understand at a glance. Cabin attendants recorded each phrase to give maximum audio warmth and friendliness. We also worked to link the tablets with a writing app that broadens the range of communication.
The ANA Communication Board has received positive feedback, including requests to further expand the available scenarios and content. We are now working to upgrade the tablet, aiming to create a device that will bring even more pleasure to customers from across the globe in the future.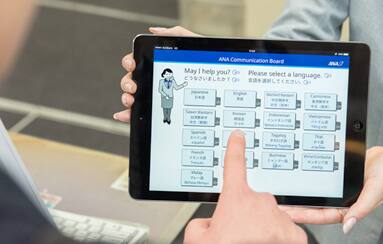 Like Daiya Seto, ANA is a representative of the host country in 2020. This makes us even more determined to help our international customers enjoy more comfortable flights and take home warm feelings about Japan.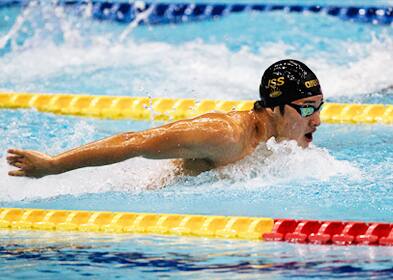 Swimmer
Born in 1994 in Saitama prefecture, Daiya started swimming at the age of five. His main event is the 400m individual medley. During his years at Saitama-Sakae high school, he won three times at the inter-high school championships. In 2013, while at Waseda University, he took gold at the World Aquatics Championships. In 2015, he repeated the feat, becoming the first Japanese swimmer to record back-to-back titles. Last summer in Rio, he won a bronze medal. From April, he will be with the ANA swimming team.