ANA's
Premium Wine Selection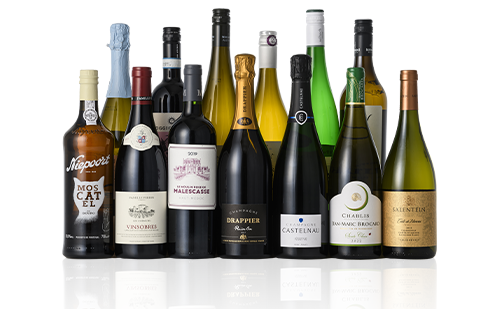 In ANA Business Class (International Flights), you can choose from a carefully selected lineup of reds and whites from top caliber wineries from around the world.
Sample images. Service periods will differ depending on the route, aircraft type, etc.
ANA's Premium Wine Selection
ANA's current wine selection was put together by staff involved with on-board services and external advisor sommeliers.
ANA brings you this exclusive selection with confidence. Savor the delicious marriage between these wines and cuisine.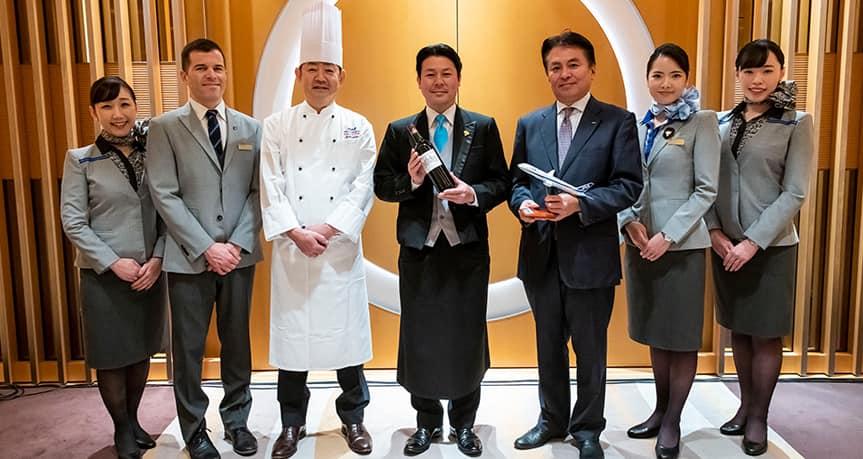 Around 2,000 brands of wine from 15 countries were entered into the first round of selections for this lineup. Wines that passed an initial screening then went on to be marked at blind tastings in the final selection, and the entire selection process took around half a year. Wines that scored highly at the blind tastings by members of "THE CONNOISSEURS" such as ultimate wine masters Olivier Poussier (Best Sommelier in the World 2000) and Satoru Mori (Executive Sommelier, Conrad Tokyo) are served on board. This lineup strikes an exquisite balance between the bold individuality of each wine, and features brands from a variety of wine-producing several regions including Japan in addition to European classics.
Olivier Poussier was selected as the Best Sommelier in the World in 2000. He now works as the chef sommelier at the House Lenôtre of France while running a wine consulting firm.

Satoru Mori is an Executive Sommelier at Conrad Tokyo. He handles activities to raise awareness of wines and to train younger sommelieras a managing director of Japan Sommelier Association (JSA). In 2017, he was recognized as a "Modern Master Craftsman" by a Minister of Health, Labour and Welfare Ministry. He leads the Japanese wine industry through his outstanding performance and winning at various sommelier competitions around the world and in Japan multiple times.
Other wine recommendations by ANA
The finest choice of red and white wines produced by top caliber wineries from around the world, were selected to complement the menu in our Business Class. Enjoy popular well-balanced wines or discover new labels.
The brand may change without prior notice for convenience, or may not meet your request.
Champagne Duval-Leroy Brut Réserve

A family owned Champagne house, since 1859, Duval Leroy is well implanted in the heart of the region, especially in Côte des Blancs. The Brut Reserve is a vinous Champagne, with dry fruit, sweet apple and pastry flavors. On the palate, the attack is broad, then the bubbles are very fine and the mousse is creamy and fresh. The persistent and salty finish is lifted with notes of sweet spices, biscuit and white bread.
Pinot Noir / Meunier / Chardonnay

Château Castegens 2016

This old, historical Château, already a witness to the battle of Castillon in 1453, is producing wines from its 28 hectares limestone and clay based vineyard. The 2016 has both the power and the elegance of this excellent vintage. A solid, firm Bordeaux, with a blackberry and vanilla dominated aromatic profile, a dense, palate and a sustained black fruit aftertaste.
Merlot / Cabernet Franc

Skuttlebutt Sauvignon Blanc Semillon 2018

The inimitable expression of Sauvignon Blanc and Semillon blends from Australia, with a combination of zesty, citrusy notes, creamy texture, and bees wax and lanolin flavors. Precise salty and waxy long lasting finish.
Sauvignon Blanc / Semillon
Check "Meal/Drink Menu" for the serving period and routes of the above labels.

Beverage brand is subject to change without prior notice. Please accept our apology if your choice is not available.