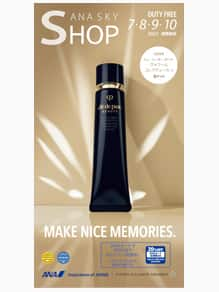 PREMIUM ECONOMY
Duty-Free Shopping
Information is available here on the in-flight duty-free shopping options available to passengers traveling in Premium Economy on ANA international flights. ANA in-flight sales boasts a wide product lineup at low duty-free prices.
Special Notice

Our in-flight duty free sales service and pre-order service for international flights will restart as of December 10, 2020. In consideration of hygiene, we will implement the following infection prevention measures.

You can confirm the items on sale on your seat monitor.
The ANA SKY SHOP magazine can be viewed in the digital catalog on the ANA website and the e-Library on the app.
We will accept orders on board via the seat monitors.

If unsupported aircraft, please use the order form.

The handling of cash on board will be discontinued. Only credit cards, ANA Gift Cards/ANA Travel Vouchers and ANA Value Vouchers (incl. ANA Diamond Service In-flight/Airport shopping coupon) can be used for purchases made on board.
Information

We are proud to announce some of the new hot products at our pre-service!
We are currently showing an in-flight program that goes behind the scenes of ANA's in-flight sales! Please be sure to check it out when you next travel with us.
Duty-Free Shopping
Advantages of
Duty-free Shopping
with ANA SKY SHOP
Use your ANA card for purchases to get 10% discount and accumulate miles.

A great selection of goods at reasonable prices only available through duty free!

Limited edition items only available on In-Flight Duty-Free Shopping!
Recommended Item July - October
ANA SKY SHOP offers different products on different routes.
Check the route of your flight and choose products.
July-October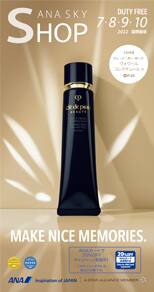 Please check our ANA SKY SHOP Digital book for the product list in July-October.
There may be cases that some portable devices are not available to use.
In-flight duty-free orders made easier.
Information on In-flight Duty Free Pre-order Service

You can reserve products available during In-flight duty-free shopping service prior to departure.
Please take advantage of the wide selection of goods at reasonable prices available only as duty free. We recommend you make a reservation early as some of the limited products are scarce.