Kumamoto Castle: The Symbol of Kumamoto Watching Over the Castle Town
Kumamoto
The Symbol of Kumamoto Watching Over the Castle Town
Tabaruzaka in Kumamoto, where a fierce battle took place during the Satsuma Rebellion of 1877, has several tourist sites. Among them are Tabaruzaka Museum, which exhibits a variety of materials on the Rebellion. Also, in Tabaruzaka Park, a restored house stands to show scars of the battle.
The Tabaruzaka Museum is located at Tabaruzaka, the major battlefield during the Satsuma Rebellion, the last civil war in Japan.
During the Satsuma Rebellion, the Satsuma vanguard struggled with the solidly built structure of Kumamoto Castle that Kiyomasa had built, which was just like a fortress in the warring state. In the castle, Government troops, numbering over 3,000, withstood the siege for more than 50 days. It is quite understandable that a rumor spread later on about a comment made by Takamori Saigo: "I was defeated not by Government troops, but by Kiyomasa."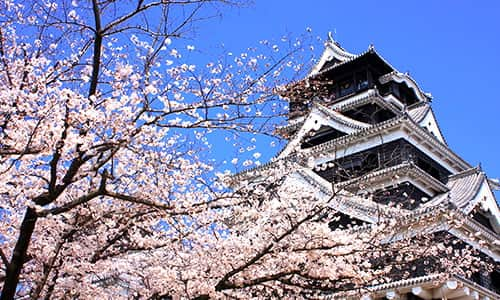 While the castle was seriously damaged by the Kumamoto earthquakes, efforts have begun to rebuild the area as a symbol of reconstruction and growth.
Address

1-1 Honmaru, Chuo-ku, Kumamoto-shi, Kumamoto
View Map
Access

From Aso Kumamoto Airport (40 minutes by car)
Business Hours

[Parking Area: Hours]
April - October 8:00-18:30 (last entry at 17:30)
November - March 8:00-17:30 (last entry at 16:30)
Inquiries

096-352-5900
Fees

* The paid parking area on the castle's premeses is currently closed.