Changes to Boarding Order (from November 15, 2021)
With the aim of providing our customers with greater peace of mind on flights, we collaborated with the Nishinari Laboratory at Tokyo University to carry out research into the optimum boarding process.
Our findings revealed that we can make the boarding process smoother while preventing crowding in the aisles and other areas of the cabin, by having window seat passengers board the aircraft first, followed by those in middle seats and then those in aisle seats. We have therefore decided to introduce this boarding order for our flights.
Furthermore, we will resume our Priority Boarding Service which was temporarily suspended, and invite passengers to board the aircraft in the order shown below.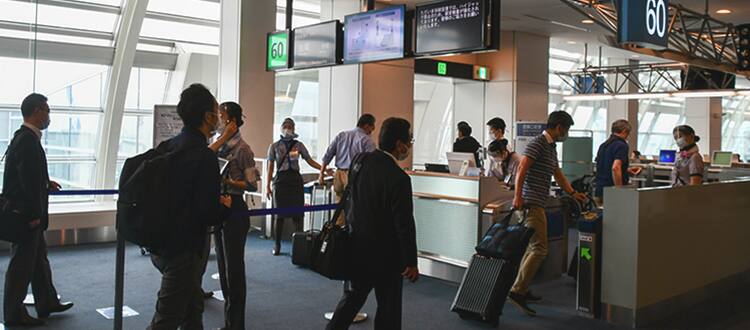 | Boarding Order | Japan Domestic Flights | International Flights |
| --- | --- | --- |
| Group1 | Diamond Service Members | First Class passengers, Diamond Service Members |
| Group2 | Platinum Service Members, Super Flyers Members, Star Alliance Gold Members, Premium Class passengers | Business Class passengers, Platinum Service Members, Super Flyers Members, Star Alliance Gold Members |
| Group3 | Window seat passengers | Window seat passengers in Premium Economy and Economy Class |
| Group4 | Middle seat passengers | Middle seat passengers in Premium Economy and Economy Class |
| Group5 | Aisle seat passengers | Aisle seat passengers in Premium Economy and Economy Class |