Swaying pampas grass of Soni Highland creates spectacular scenery for every season
Soni Highland in eastern Nara Prefecture is a vast plain at the foot of Mount Kuruso (elevation: 1,038 meters), one of the 300 Famous Japanese Mountains. Known for the beautiful fields of Japanese pampas grass, every year in mid-March, the wilted grass is burned off the hill, and from spring to summer, fresh pampas grass covers the plain in a green carpet. The scenery becomes even more incredible in the fall season from October to the end of November, as the pampas grass covering the 40-hectare plain turns into stunning waves of silver and gold swaying in the wind.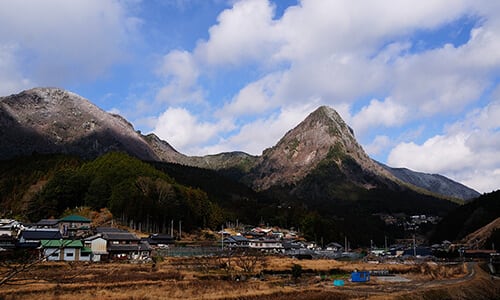 Mount Yoroi and Mount Kabuto
Mount Yoroi (armor), also known as Mount Odake (male mountain), is named for its stout and rocky appearance as if it is wearing a suit of armor and towering toward the sky. It is 894 meters high with a unique rock surface and giant trees of botanically rare hidarimakigaya, the prefecture's natural treasure, growing in the foothills. On the west side of Mount Yoroi is the 920-meter-high Mount Kabuto (warrior's helmet), also known as Mount Medake (female mountain), which is named after the kabuto-like shape of the mountain. Both Mount Yoroi and Mount Kabuto are designated as national nature treasures.
On the west side of Mount Kabuto, the 2-kilometer-wide national natural treasure Byobuiwa (folding screen rock) stands like the name suggests. The south face of Byobuiwa is a sheer cliff about 200 meters high with vertical columnar cracks on the rock wall. In the spring, mitsuba azaleas bloom on the rock wall, and over 300 mountain cherry blossoms bloom around the foothill park. In the fall, the surrounding foliage and the rock wall create a magnificent contrast.
Location
Name
Soni Highland
Website
https://sonimura.com/en/sightseeing/1/
Address
Taroji, Soni-mura, Uda-gun, Nara
Access
From Nabari Station on the Kintetsu Railway Osaka Line, take the Mie Kotsu Bus Yamagasunishi Line, get off at Taroji bus stop and walk for approximately 45 minutes.
(Bus for Soni Highland available during October and November)
Inquiries
TEL: 0745-94-2116 (Planning Department, Soni Village)