Hidden Gems
Driving Tourism with ANA
We took a trip by plane and car to a city of
beautiful nature and culture.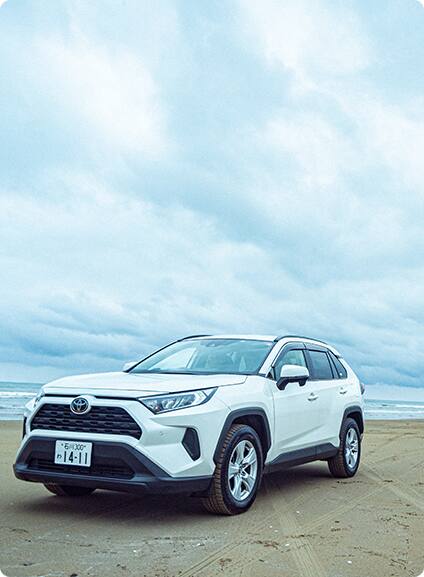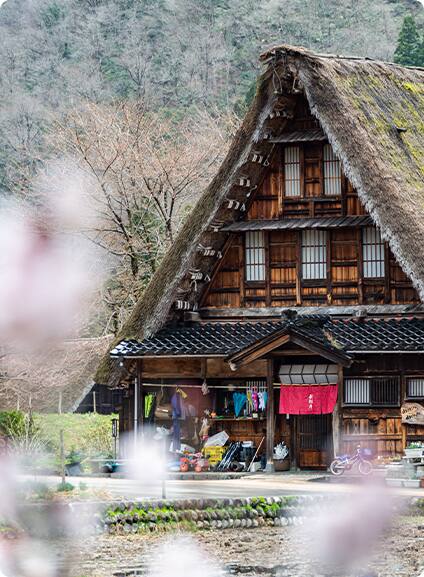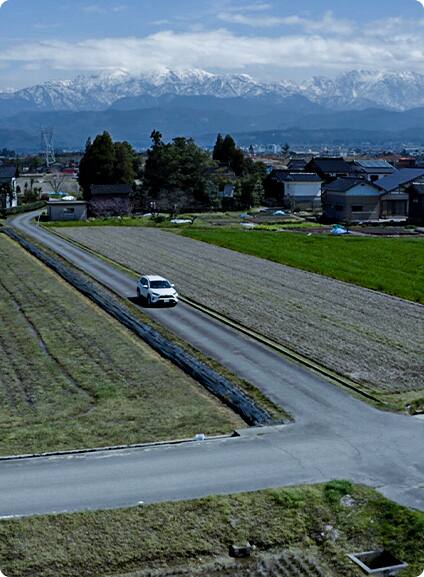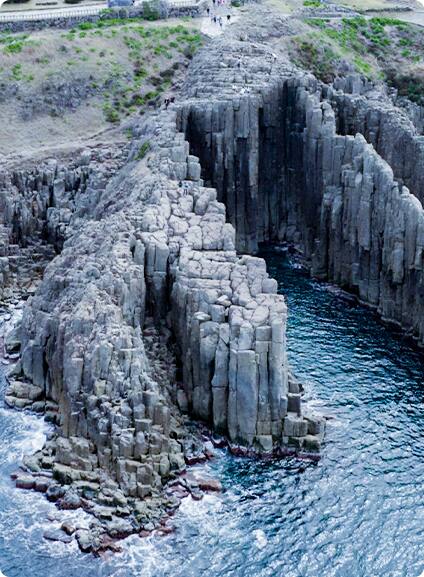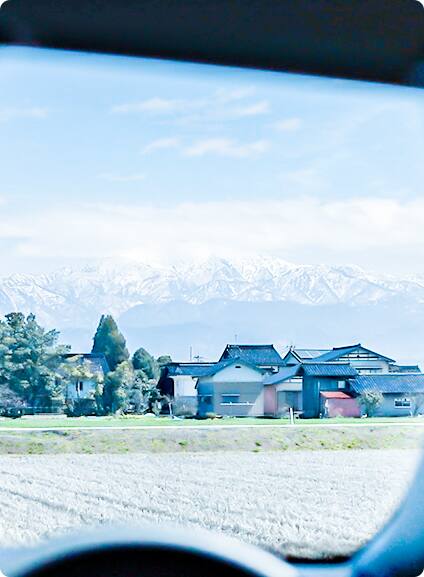 A Must See
Hokuriku Region
---
This is a video about the Hokuriku area that you absolutely need to experience.
You will be able to feel the charm of the little-known Hokuriku Region.
This is a video that depicts one woman and one man are enjoying a road trip to Hokuriku, Japan by using TOYOTA Rent a Car.
Introduction
---
The beautiful and coastal Hokuriku region is a can't-miss area for anyone looking to experience Japan's nature, tradition and culture outside of the typical locations. Whether it's the coastal western seaside or the mountains of the east, Hokuriku is the spot for nature lovers in Japan.
Travel to Hokuriku with safety and security, which can be enjoyed only by car.
Why don't you experience it in this page first?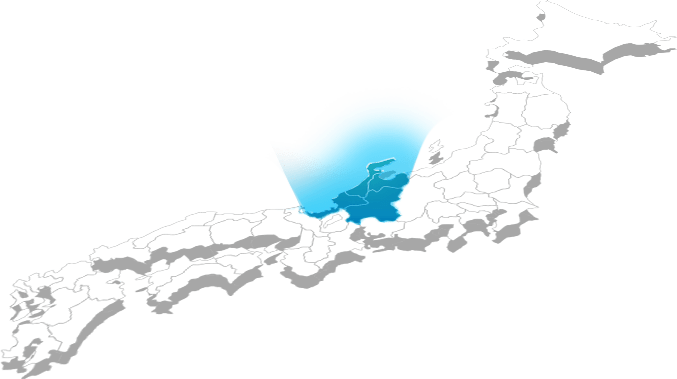 The West Side
---
The west side of Hokuriku follows seaside roads down the coast. For those who are the type who like to get their feet wet, there are countless experiences like the Chirihama Nagisa Driveway. For those who would rather take in the scenery from a comfortable distance, there is the Omaki Onsen surrounded by nature.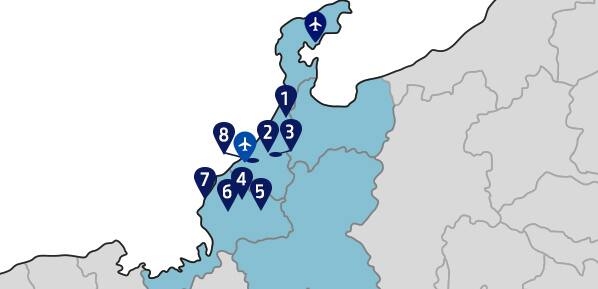 Noto Airport

1

Chirihama Nagisa Driveway

2

Omicho Market

3

Old Town and Kanazawa Castle Park

4

Daihonzan
Eihei-ji Temple

5

Ono Castle

6

Ichijo Falls

7

Tojinbo

8

Big Truck Komatsu-no-Mori
Komatsu Airport
01/08

Chirihama Nagisa Driveway

Unlike basically anywhere else in Japan, Chirihama Nagisa Driveway boasts sand fine and compact enough to drive on. Driving to the sounds of waves with the cool ocean breeze flowing through your window and the taste of fresh sea air in your lungs will make you feel like you're starring in your own tropical movie.

This is an image video of Chirihama Nagisa Driveway.

02/08

Omicho Market

Omicho Market is home to many fish vendors selling their haul from the morning catch. The restaurants here have some of the freshest dishes you can find in Japan. Some are even lavishly adorned with gold leaves, which is a famous product of the area. The fish itself has a light and pleasant aroma and flavor that you will want to try again and again.

This is an image video of Omicho Market.

03/08

Old Town and Kanazawa Castle Park

If classic Japanese architecture is something that interests you, then Kanazawa Castle Park is the place for you. At the end of a gorgeous market street, flanked by traditional Japanese buildings on one side and red lamps and cherry blossoms on the other, you can find the bridge to Kanazawa Castle. Savor traditional treats, like dango, while taking in the beautiful and unique castle design.

This is an image video of Old Town and Kanazawa Castle Park.

04/08

Daihonzan Eihei-ji Temple

Daihonzan Eihei-ji Temple is a major site of pilgrimage for many Buddhists in Japan. And it's no wonder, with how visually appealing it is. Set upon a hill and surrounded by tall trees, the temple itself stands out over the buildings and streets below its gates. You don't have to be a practicing Buddhist to appreciate the atmosphere of the whole area leading up to the shrine. It is the perfect spot to relax and look at some of Japan's famous ancient architecture – known around the world for its style and beauty.

This is an image video of Daihonzan Eihei-ji Temple.

05/08

Ono Castle

The valley here is known for its low cloud level, and Ono Castle is built above it all. If you're lucky, the base of the castle will be surrounded by clouds and you can get views like something out of a fantasy world. The locals pride themselves on creating an environment that brings people together, and it shows in the way everyone would stop to say "good morning" while climbing up to the castle.

06/08

Ichijo Falls

The area around Ichijo Falls was home to the legendary swordsman Sasaki Kojiro, rival of the legendary Musashi Miyamoto,. At the base of the falls you can find a statue paying respect to the local hero. And it's fitting, as the falls feel like the perfect place for a warrior to train with the sound of rushing water and the invigoratingly fresh mountain air. While it's not recommended to carry a sword around here now, it is a wonderful waterfall rivaling the greats of Japan.

This is an image video of Ichijo Falls.

07/08

Tojinbo

Looking out from 25 meters above the surface of the water, Tojinbo is an iconic view of Hokuriku. The cliffs have been a celebrated spot since long ago. It is said that there are only three places in the world, Including Tojinbo which are as geographically rare. The cliffs are designated as a natural monument of Japan alongside the remote island at the tip of the arch.

This is an image video of Tojinbo.

08/08

Big Truck Komatsu-no-Mori

Komatsu-no-Mori is like a shrine to the achievements of a company known for its construction vehicles, showing off a massive dump truck. It's one of the biggest trucks in the world, remotely driven from afar and used for mining in remote places. Looking up at the giant machine is bound to raise a truckload of questions that the informational videos do a wonderful job answering.

This is an image video of Big Truck Komatsu-no-Mori.
The East Side
---
Diverging from the ocean down through the mountains, rivers, and forest areas of Hokuriku, the east side is a nature lover's paradise. The mountain roads offer a gorgeous driving experience to places like Ono Castle with countless cultural locations to stop along the way such as Takaoka's tin town.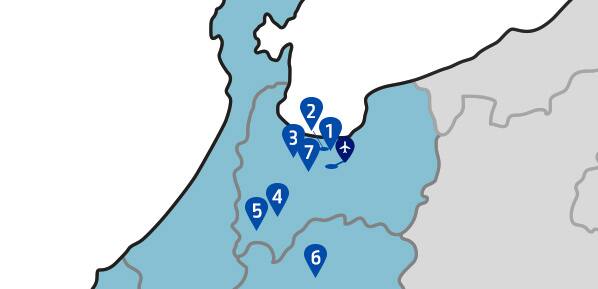 Toyama Airport

1

Toyama Glass Art Museum

2

Toyama Castle

3

Big Buddha Takaoka Daibutsu

4

Omaki Onsen Kanko Ryokan

5

Gokayama Village

6

Hida Takayama Old Town

7

Takaoka's Tin Town
01/07

Toyama Glass Art Museum

The Toyama Glass Art Museum is full of beautiful glass art pieces made by artists from around the world. The building itself was designed by Kengo Kuma, who designed the New National Stadium for the 2020 Olympics, and is spectacular. No matter where in the world you go, if there is glass art, there is Dale Chihuly. His distinct style is uniquely beautiful and gives a perfect end to the whole experience.
* The exhibitions are regularly changed

This is an image video of Toyama Glass Art Museum.

02/07

Toyama Castle

Surrounded by a moat of clear water and decorated with sakura trees, Toyama Castle provides the perfect palate cleanser after a day in the city. The smell of delicious food wafts through the streets and the path around the moat is a perfect place for a relaxing stroll or jog. At the tourist information center in the park, you can feel like a real samurai by wearing traditional armor under the castle's visage.

This is an image video of Toyama Castle.

03/07

Big Buddha Takaoka Daibutsu

Takaoka is home to one of Japan's top three giant Buddha statues. You can find it hidden away in the narrow back streets, but once you round the corner it really stands out. Staring up at the statue's visage, the sounds of the nearby city fade away. You can even enter the statue itself where there is a small museum-like area full of Buddhist art. Among the big three, its location and atmosphere are unique and unforgettable by their contrast to the surrounding city.

This is an image video of Big Buddha Takaoka Daibutsu.

04/07

Omaki Onsen Kanko Ryokan

This beautiful inn can only be reached via river boat which makes it a unique experience, even for those living in Japan.Taking a ship down the river was an unmatched experience where every twist and bend brought a new verdant mountain-scape into view. With periodic signs of civilization in the form of towering bridges and old architecture, the river tour seems like something out of high budget fantasy film. Omaki Onsen itself is a bath resort built in a traditional style that is the perfect end to the ride.

This is an image video of River Boat Omaki Onsen Tourist Ryokan.

05/07

Gokayama Village

Gokayama is like a village frozen in time. Thatched roof villages like this are a quiet getaway for people looking to learn about the architecture and history of ancient rural Japan. Even to this day people still live in these monuments to ancient Japan. Even though the most famous images are taken in winter when the village is covered in a thick mountain snowfall, it is beautiful here all year long.

This is an image video of Gokayama village.

06/07

Hida Takayama Old Town

Hida is the perfect place to try many of Gifu's famous foods while leisurely walking around and taking in the traditional atmosphere. You can try nigiri, which is sashimi made from raw Hida beef, as well as beef croquets made with minced beef and vegetables, savory grilled dango, and soy sauce-based ramen. The streets are full of old-style Japanese, stores, homes, bridges, and statues. The peaceful traditional atmosphere makes the food taste even better. If eating, then walking, then eating some more is your style, then this is the place for you.

This is an image video of Hida Takayama Old Town.

07/07

Takaoka's Tin Town

In Takaoka you can try making accessories from tin with a master inside a famous ancient home. Tin is malleable and easy to work with. Because of this, you can try your hand at making earrings, necklaces, rings, and bracelets. If accessories aren't your thing, they make wonderful presents, or you have the option of crafting little bowls that can be used for all sorts of things.

This is an image video of Takaoka's Tin Town.
Enjoy driving
in Hokuriku
---
Let's enjoy driving from there when you land in a place you want to visit by ANA!
How to Get There
Taking a plane is an easy and convenient way to vacation in Hokuriku. Start your road trip with a quick trip to the car rental counters located in the airport.
Domestic Flights
Haneda

Noto

Approx. 60mins
Haneda

Komatsu

Approx. 60mins
Haneda

Toyama

Approx. 60mins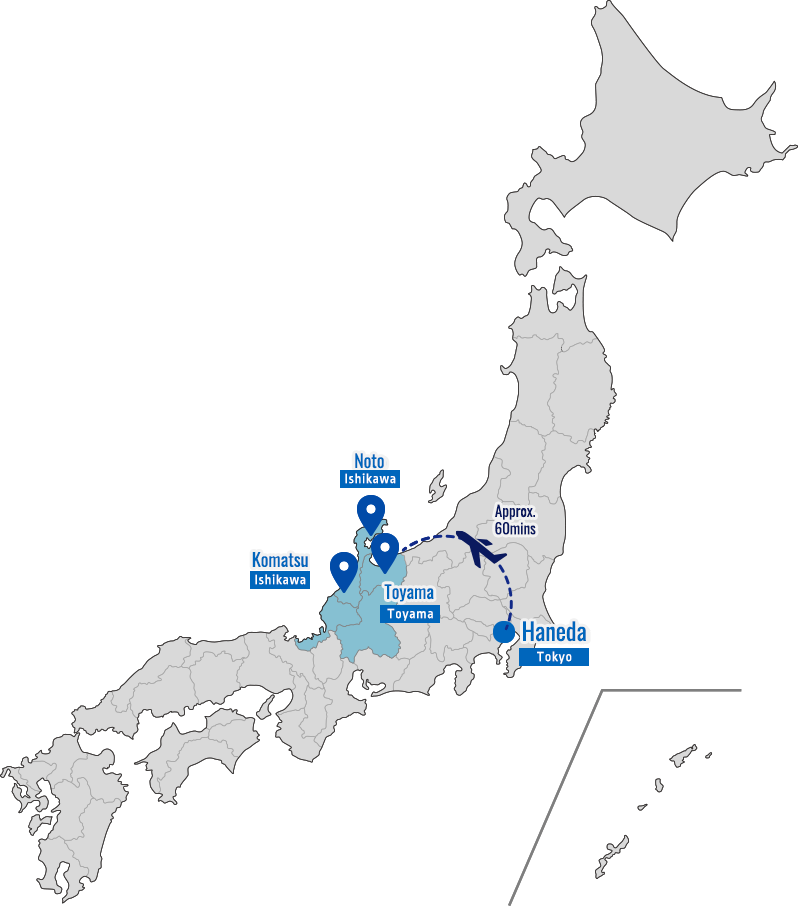 Let's rent a car
If you're renting a car in Japan, you'll be in good hands with these tips!
A more comfortable journey awaits you.
[01] Car Rental
[02] Fueling Up
[03] Toll Roads Made Easy
[04] Road Sign Caution
[05] Away from the City Bustle
01/05

Car Rental

The TOYOTA Rent a Car at the airport is polite, friendly and willing to answer any question you may have. With their help, renting a car is easy.

02/05

Fueling Up

The process of paying for gas can be unfamiliar if you have never been to Japan, but if you follow the instructions on the pump you should be fine. You can also find gas stations where the employees provide full service without you having to leave your car.

03/05

Toll Roads Made Easy

You can rent an ETC card which will let you take the fast lane through tolls, never having to stop for even a second. It will save you time and money on your driving trip. All you have to do is put it in the ETC reader your dash and keep driving.

04/05

Road Sign Caution

Be careful with stop signs in Japan as they are uniquely shaped like inverted red triangles, with the Japanese character for 'Stop' or '止' printed in white, as opposed to other common shapes around the around the world.

05/05

Away from the City Bustle

Driving in Hokuriku is easy and relaxing especially compared to Tokyo and other big cities as many of the roads are quieter and more peaceful year-round.