Wakayama Castle soars in the heart of the city
A historic landmark of the city of Wakayama, the area is designed as a park with various attractions including a garden, history museum and zoo. Enjoy the stunning scenery of the lush green Mount Torafusu, sparkling white castle tower and beautiful cherry blossoms in the spring. Since its construction in 1585, Wakayama Castle was the longtime residence of the Kishu Tokugawa clan, one of the three branches of the ruling Tokugawa clan.
Pristine three-tier castle tower
The main tower of Wakayama Castle at the top of Mount Torafusu provides an amazing 360-degree view of the Wakayama cityscape. The castle consists of the main tower with interconnecting corridors and three small towers, creating a square shape when seen from a birds-eye view. Its rare structure, called renritsu-shiki tenshukaku (connected construction), is one of only several in Japan. Formerly, the castle was designated as a national treasure until it was destroyed by a fire, and the current castle tower was rebuilt in 1958. It is a very authentic recreation virtually indistinguishable from the original.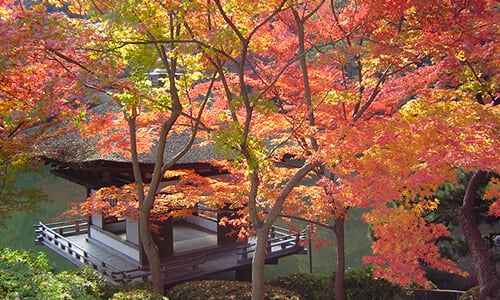 Nishinomaru Garden with gorgeous fall foliage
A Designated Place of Scenic Beauty of Japan , the garden cleverly utilizes the slopes of Mount Torafusu. Elegant scenery is created from the two-step waterfall using spring water, the Engyokaku Pavilion floating in the pond and numerous bridges strewn across the waters. The garden is also known as Momijidani Garden, or the Garden of the Valley of Maple Leaves, for the stunningly beautiful foliage during the fall season. Be sure to see the roofed Ohashiroka Bridge, a very rare diagonal bridge, and enjoy matcha tea and Japanese sweets in the Koshoan Teahouse.
Statue of Reclining Tiger
Mount Torafusu, where Wakayama Castle is situated, is named for its shape that looks like a tiger resting when viewed from the sea. In fact, the castle was nicknamed Torafusu Takegaki Castle, or Reclining Tiger Bamboo Fence Castle, during the Edo Period (1603-1868). The statue of the reclining tiger called Fukko-zo was created for this reason and rests on the cobbled pathway inside the Otemon Gate. The current statue built in 1959 is a recreation of the original.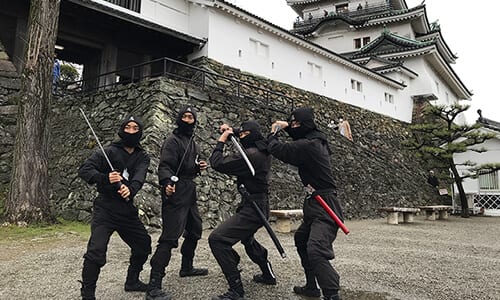 Hospitality Ninjas around Wakayama Castle Park
Let the hospitality Ninjas assist you around the park. In addition to guides, translations and taking photos, they can help visitors needing support going up to the castle with power-assisted wheelchairs. The kind ninjas are sure to make your tour of Wakayama Castle memorable, even helping you cool down during the hot summer with water mist services.
Location
Name
Wakayama Castle
Website
https://en.visitwakayama.jp/venues/venue_8/
Address
3 Ichibancho, Wakayama-shi, Wakayama
Access
Approximately 15 minutes' bus ride fom JR Wakayama Station, then get off at Koen-mae bus stop
Approximately 10 minutes' walk from Wakayamashi Station on the Nankai Electric Railway
From the Wakayama IC on the Hanwa Expressway, take National Route 24 via Sannenzaka-dori for approximately 15 minutes
Inquiries
TEL: 073-435-1185 (Wakayama City Tourist Information)