Kamado Shrine in Dazaifu in Fukuoka filled with charms in addition to bringing good relationships
Kamado Shrine in Dazaifu City in Fukuoka Prefecture is famous for the god of "Enmusubi" that brings good relationships and marriage, so the threads with a small charm sold at the shrine are popular as a love amulet. Officially named Homangu Kamado Shrine, it has been venerated for over 1,350 years not only as a deity who brings luck in romance but also helps the establishment of good relationships and ties with people. The Kamado Shrine sits at the base of Mount Homan, a sacred mountain located in the city of Dazaifu, which has been regarded as the crossroad of civilization since ancient times as the main point of interaction between people and cultures.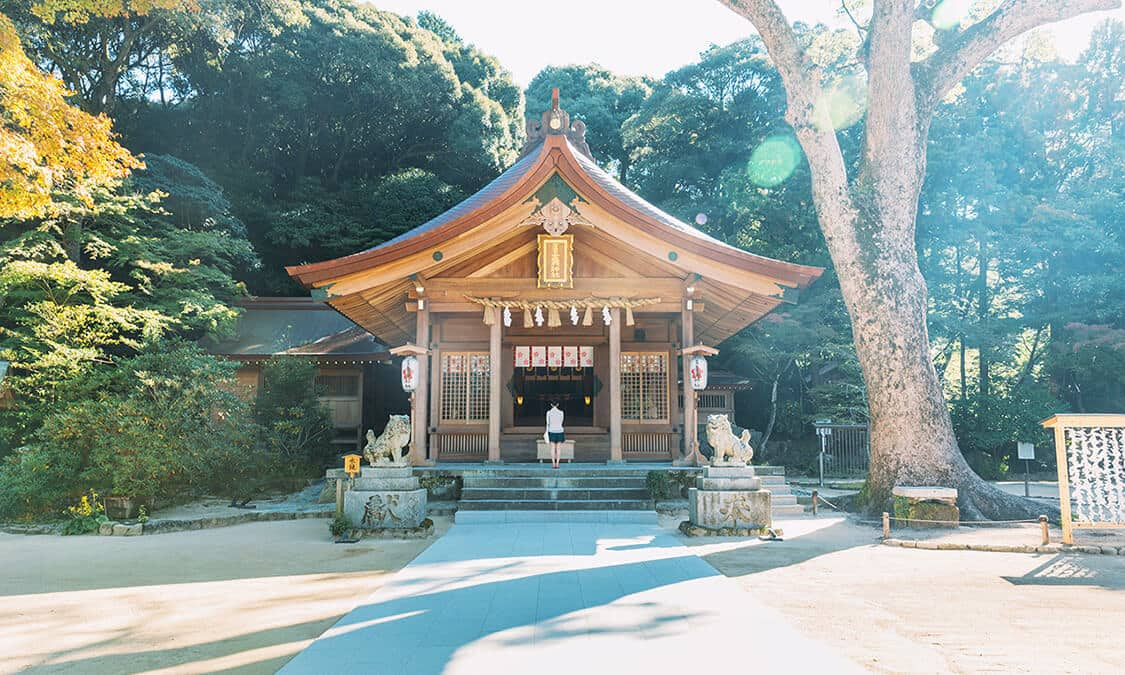 An ancient shrine endowed with the rich nature of Mount Homan
Dazaifu in Kyushu is famous for Dazaifu Tenmangu, a shrine dedicated to Michizane Sugawara who was Japan's greatest and most influential scholar. Located about 10 minutes northeast from there by car, Homangu Kamado Shrine has long been believed to bring good relationships and fortune as well as warding off evil. Venerated as a sacred mountain, Mount Homan (elevation of 829 meters) is the most climbed mountain in the Kyushu region. Kamado Shrine has two sanctuaries, one at the peak of the mountain and one at its foot. Also known for the splendor of its cherry blossoms in spring and colorful foliage in autumn, visitors can enjoy the rich nature surrounding the shrine in every season. The shrine grounds including the main hall and the office have been renovated in 2013 in commemoration of the shrine's 1,350-year anniversary. Designed by Masamichi Katayama, a world-renowned interior designer of a design agency Wonderwall, the new "juyosho" where talismans and amulets are sold has especially garnered international attention.
God of "Enmusubi" that brings good relationships
Kamado Shrine is mainly dedicated to Tamayori-Hime-no-Mikoto who was the mother of Emperor Jimmu, the first Emperor of Japan. Believed as a deity who brings the two spirits together, many young women visit the shrine to pray for luck in romance and marriage. That being said, "Enmusubi" does not just refer to love bonds but also various relationships that are indispensable in leading a rich and happy life, such as the connection between family, friends, and work.
"Katayoke": Removal of misfortune and disaster from life
As it is often said that life is like a journey, people have always been relying on Kamado Shrine at important stages of their lives since long ago. Because Mount Homan, also known as Mount Kamado, lies to the inauspicious northeastern direction from Dazaifu's regional government when it was established in the middle of the 7th century, several rituals were held nationally to ward off evil spirits. Officials assigned to Dazaifu, cultural figures such as Japan's greatest poets, as well as people traveling abroad including Japanese diplomatic envoys dispatched to China and the Sui dynasty were among the many worshippers who climbed the mountain to pray for success by removing misfortune and disaster on their journey. Even today, people visit the shrine to offer prayers on their milestones such as a change of residence or job, study abroad and new business.
Strolling through the shrine grounds
Because Kamado Shrine is located about 180 meters above sea level, the surrounding temperature is usually 2 to 3 degrees cooler than Fukuoka City. So, once you step inside the premises, you can feel a sacred atmosphere in the air. Endowed with the rich nature of Mount Homan, visitors can enjoy a variety of cherry trees including Somei-Yoshino that bloom in spring, the fresh green leaves of maple and rhododendron, as well as the beautiful flowers of hydrangea serrata in summer, which are all pleasant to both the eyes and soul. In autumn, leaves of about 300 maple and ginkgo trees turn into vivid colors, which are lit up at night, letting you soak up the mythical atmosphere very different from daytime. In addition to purifying your hands and mouth before entering the shrine, it is also believed that your wish comes true by also cleansing your soul by reflecting yourself on the water located in front of the main hall. Within the shrine's premises are also the "rocks of love" used as a means of love fortune telling as well as a tree where you can make a wish to re-encounter the person you like.
Aiming to become the standards in 100 years
Designed based on the concept of becoming the standards in 100 years in 2012, the new shrine office exudes an atmosphere that fuses traditional techniques and modern design. Specifically, designed by world-renowned interior designer Masamichi Katayama of Wonderwall, the juyosho visitors center, where talismans and amulets are sold, has gained attention for its clean and charming design. The pink-hue marble cladding of the wall represents the faith of each visitor to the shrine, while the cherry blossom motifs, which is the shrine's crest, are used on the ceiling and walls. By incorporating the outside view into the room, it lets you feel the landscape unique to each season. The center offers a wide variety of delightful amulets with different purposes including good relationships, which may make it harder to choose from. The viewing deck located behind the center has benches and chairs designed by a world-famous product designer Jasper Morrison, letting visitors spend a relaxing time while refining their senses surrounded by beautiful scenery.
Location
Name
Homangu Kamado Shrine
Website
https://www.crossroadfukuoka.jp/en/event/?mode=detail&id=400000005881
Address
883 Uchiyama, Dazaifu-shi, Fukuoka
Access
Approximately 10 minutes by community bus Mahorobago bound for Uchiyama from Nishitetsu Dazaifu Station to the last bus stop Uchiyama
Approximately 8 minutes by community bus Mahorobago bound for Uchiyama from Dazaifu Tenmangu to the last bus stop Uchiyama
Business Hours
8:00 to 19:00
Inquiries
TEL: 092-922-4106
Admission
Free (paid parking)