Miyajima Water Fireworks Festival

The Miyajima Water Fireworks Festival is a fireworks show held in Miyajima Town in Hatsukaichi City, Hiroshima Prefecture. Enjoy spectacular fireworks against the silhouetted backdrop of Itsukushima Shrine and its great torii gate. We offer tips on the best ways to enjoy the fireworks and share great vantage points where you can avoid the crowds.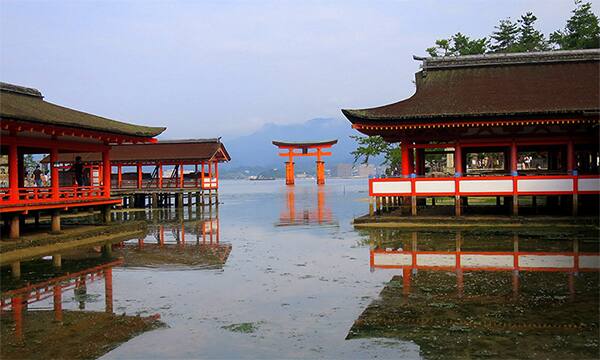 Designated as one of the three great scenic places in Japan, Miyajima's breathtaking scenery is composed of three elements: Itsukushima Shrine, the center of the trinity, and the sea in the foreground, and mountains in the background. While the island is widely known as Miyajima, which means "Shrine Island" in Japanese, its official name is Itsukushima.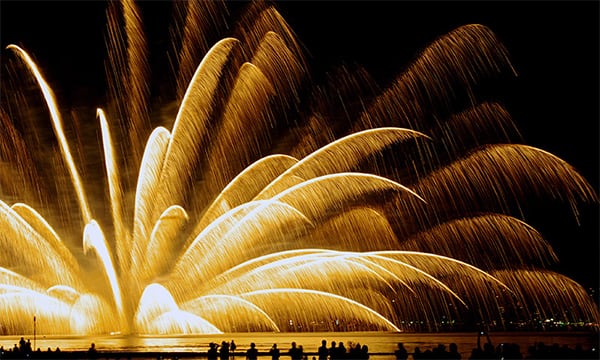 The cacophony of music, booming of fireworks and spectator's cheers reaches a climax when kaleidoscopic fireworks explode in rapid succession and envelope the sky, ocean and torii gate with a dazzling finale.
After the festival ends, the ferry terminal is congested with floods of people leaving the island. Extra ferries and trains are added to ease human traffic. Staying overnight on the island is highly recommended. However, accommodations are limited so reservations should be made in advance. Those on budget can consider bringing a tent and booking a camping space in Tsutsumigaura Nature Park.
Miyajima Water Fireworks Festival is definitely worth the effort of travelling to the island and enduring the crowds. Viewing the spectacular fireworks on this special island is truly a sublime experience that is unforgettable and unrivalled.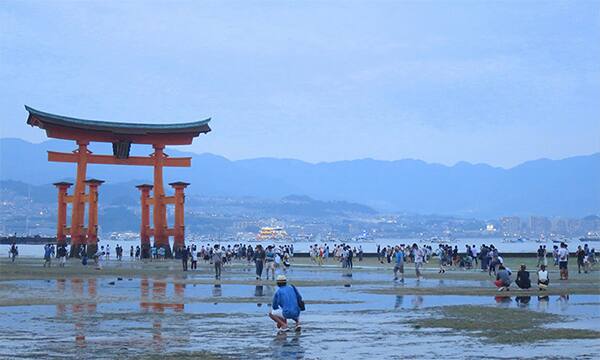 As light fades from the sky with the vanishing sunset, fervent excitement fills the island. Finally the fireworks performance commences with a fantastical combination of aerial and water pyrotechnics. The highlight of the show is the uniquely choreographed fireworks set off from offshore boats that explode over the water surface; illuminating the torii gate and casting brilliant reflections on the water.
Location
Name
Miyajima Water Fireworks Festival
Inquiries
Miyajima Tourist Association
Address
1162-18, Miyajima-cho, Hatsukaichi-shi, Hiroshima-ken
Location of the Festival
Launched from off the shore of torii gate of the Itsukushima Shrine
Telephone
(Miyajima Tourist Association)
0829-44-2011
Date and time
Late August every year (Refer to the Miyajima Tourist Association's website for the specific date and time of the year.)
Web Sites
http://www.miyajima.or.jp/english/