The opening ceremony of the Gokanosho Koyo Festival is held in late October, and the whole area of Gokanosho becomes a riot of autumn color. Every year, the colors start to appear from the higher altitudes of the mountain, and the spectacular scenery can be enjoyed until the end of November.
Various events, including "night-time performances of Kagura", ancient Shinto music and dancing, and "tea ceremonies", are held during the festival period.
The area of Gokanosho is famous for the legend of the Heike no Ochiudo, the hunted fugitives of the Heike Clan, which had been defeated by the rival Genji Clan. According to legend, which dates back to the 12th century, the descendants of the Heike Clan and of Sugawara no Michizane once ruled the five villages (Goka) of the area, namely Kureko, Shiibaru, Hagi, Nitao, and Momiki.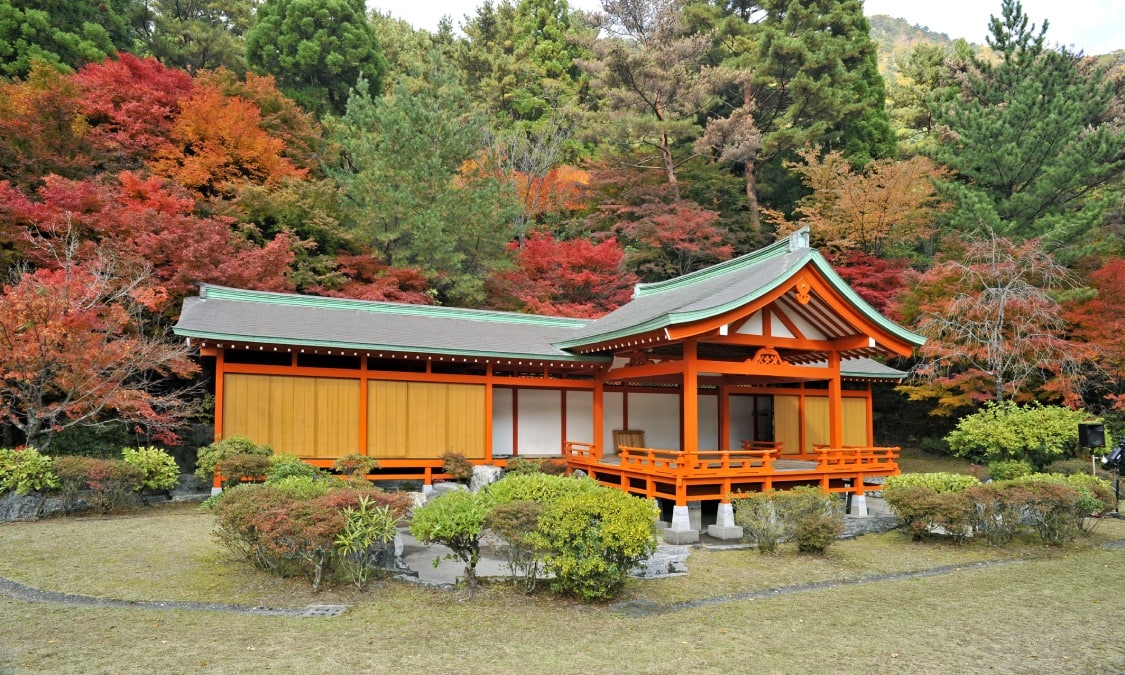 "Heike-no-Sato" (Heike Village) features a museum with exhibits related to the legend of the Heike no Ochiudo, a Noh stage, and old traditional thatched-roof Japanese houses, where you can enjoy the local sansai (edible wild plants foraged from the mountains) cuisine. The striking vermilion Noh stage presents a truly beguiling sight, surrounded by the vivid colors of the trees. Here, you can enjoy more refined, elegant scenes of autumn foliage than the majestic splendor viewed from the suspension bridge.
Location
| | |
| --- | --- |
| Name | Gokanosho (Autumn Leaves) |
| Web Sites | (In Japanese) http://www.tabirai.net/sightseeing/tatsujin/0000532.aspx |
| Address | 160-1, Momigi, Izumimachi, Yatsushiro-shi, Kumamoto |
| Access | Approx. 2 hours by car from Aso Kumamoto Airport (by expressway) |
| Inquiries | TEL:0965-33-4115 (Tourism Promotion Division, Yatsushiro City Office) |
| Event Period | Koyo (Autumn Leaves) Festival (late October - late November) |