The oldest hot spring in Kumamoto Prefecture beloved by a renowned poet
Hinagu Onsen is a seaside hot spring town in Yatsushiro, Kumamoto. Famous as the hot spring beloved by renowned haiku poet Santoka Taneda, the townscape of stone-paved streets and ancient board-fenced buildings evoke its 600-year-old history. Explore the tangled streets and feel nostalgic as you encounter many retro shops.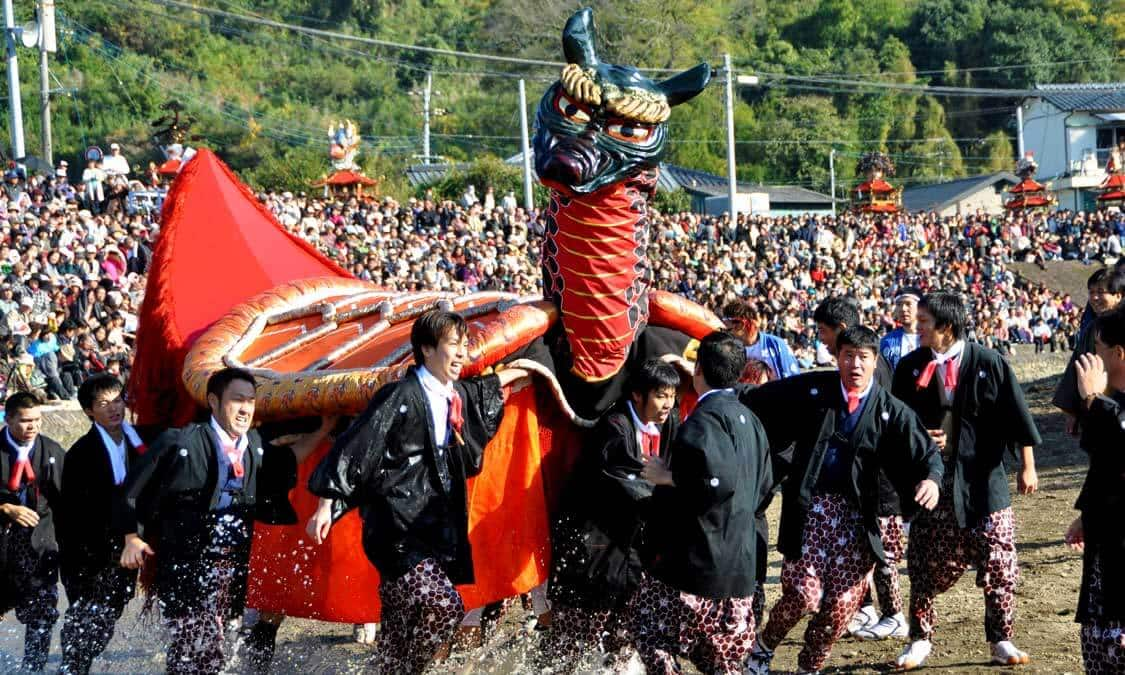 Yatsushiro Myoken Festival
Designated a UNESCO Intangible Cultural Heritage, the Yatsushiro Myoken Festival is held on November 22 and 23 every year and attracts a host of spectators. In the main procession held on November 23, approximately 1,700 participants parade along with floats for around 6 kilometers. The gorgeous floats include a lion and Kida, a mythical creature that is half-turtle and half-snake, which can be up to 5 meters long and rampages around town to the delight of the crowds.
Tategamikyo was created when ancient limestone were eroded by the Hikawa Stream. Also called the Higo-no-Karataki (the empty waterfall of Higo region), the 75-meters-high and 250-meters-wide giant rock face is a marvel to gaze up at from the river bank. The striking contrast of the rugged valley and deep-colored river is further embellished by fresh greenery in the spring and summer and by bright foliage in the fall, creating a stunning scenery for every season.
Location
| | |
| --- | --- |
| Name | Hinagu Onsen |
| Website | https://hinagu-onsen.jp/ |
| Address | 516 Hinagunaka-machi, Yatsushiro-shi, Kumamoto |
| Access | Approximately 50 minutes' drive from Aso Kumamoto Airport |
| Inquiries | TEL: 0965-38-0267 (Hinagu Onsen Tourist Information Office) |