There's more to Miyazaki than beautiful seas! Enjoy the mountains of Miyazaki in Kijo!
Ishikawauchi in Kijo Town, Miyazaki Prefecture, is where the late literary master "Saneatsu Mushanokoji" created his vision of utopia: "Hyuga Atarashiki-Mura". There are many facilities that make use of the area's abundant nature, allowing visitors to enjoy the mountains of Miyazaki Prefecture. Located around one hour by expressway from Miyazaki Airport, it also attracts many visitors from outside the prefecture.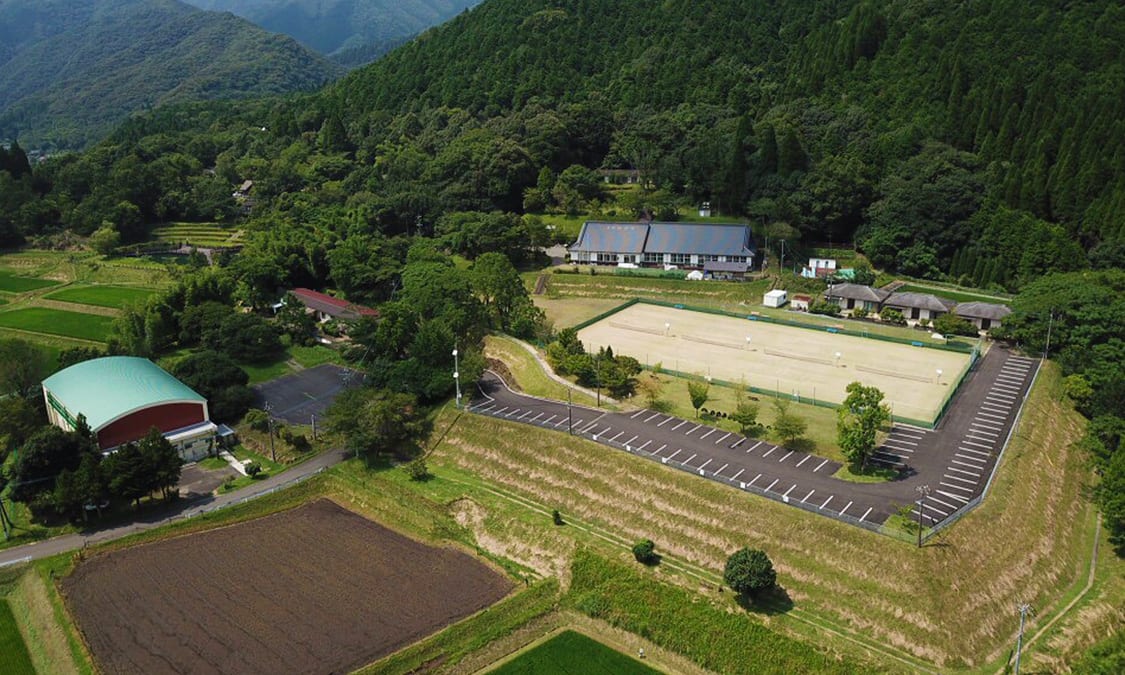 How about staying over in an elementary school?
Ishikawauchi is located in an elevated area surrounded by mountains from all directions. There used to be a local elementary school here. It has now been transformed into a facility for sports camps, and it has proved quite popular. Right in front, there is a tennis court that can be used for official matches and visitors can also use the barbecue huts and gymnasium. Use of the facilities isn't limited to just sports camps, groups of general customers can also stay over here.
Approximately 20,000 picture books from all over the world display at "Kijo Picture Book Village"
Kijo Picture Book Village is one of Kijo Town's most popular tourist spots, attracting visitors from all over the country. You can encounter works of art from a variety of perspectives here—aside from picture books, there are exhibitions of original images of popular picture book artists and photographers' photographs. There are also facilities for overnight stays, allowing you to relax in rich nature and forget your busy everyday life.
Pino' Q Park, the huge, dome-shaped trampoline is very popular!
Pino' Q Park operates a free bus tour that allows visitors to observe Kyushu Electric Power Company's Omarugawa Power Station. Reservations are required for weekday use, please call the office (0983-39-1990) to make a reservation. Aside from the bus tour, there's also a dome-shaped trampoline and an area where you can play with mini 4WD cars that'll get dads feeling nostalgic, so please come and visit with the whole family!
Location
Name
Ishikawauchi
Web Sites
(In Japanese) https://ishikawauchi.jimdo.com
Address
533-2 Ishikawauchi, Kijo-cho, Koyu-gun, Miyazaki
Access
40 minutes' drive from JR Takanabe Station
24 minutes' drive from Takanabe IC
Inquiries
TEL: 0983-39-1021