Tatsunoshima Beach Resort

It is said that there are 150 shrines registered in the Jinja Cho (Association of Shinto Shrines) within Iki-jima, including the Tsukiyomijinja, said to be the origin of the Tsukiyomisha at the Matsunoo-taisha in Kyoto. The Kojima Shrine, which can be reached only when the approach path appears at low tide, is attracting attention as a "power spot" where you can feel the mysteries of nature. Many visitors come to receive the shrine's Shuin (a seal stamp).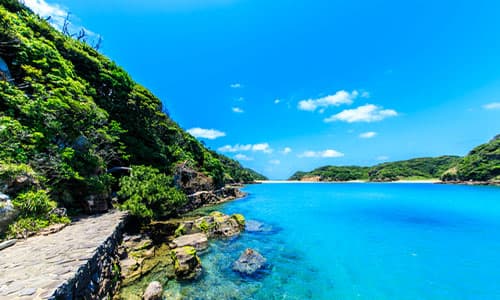 In addition, the Iki Kagura, designated as a national important intangible folk culture asset in 1987, is a sacred place where dance and music are performed only by priests.
There are many shrines and rites that are characteristic of Iki, which is a very sacred place but also familiar to residents.

Iki is the birth place of shochu distilled from barley
"Iki Shochu," made from traditional manufacturing methods inherited from the 16th century. The unique Iki method uses 2/3 barley and 1/3 malted rice for a genuine shochu characterized by a natural sweetness from the barely scent and malted rice.
Its tradition and manufacturing method were evaluated and in 1995 were officially recognized as a "Place of origin select brew" by the WTO (World Trade Organization). "Iki Shochu" is an international brand recognized worldwide.
Currently there are seven breweries, with each maintaining the unique tradition and manufacturing method of Iki Shochu. They also brew shochu on their own. Some of these shochu are only available in Iki.
Iki-shi has established regulations and is promoting toasts with Iki Shochu, and in July and November each year holds toasts with Iki Shochu.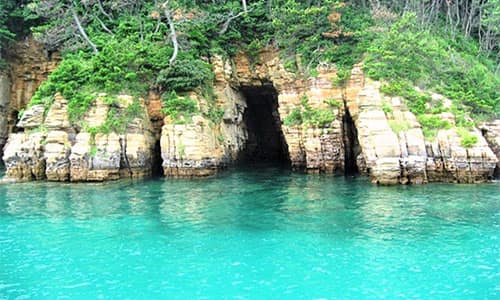 An uninhabited island located at the northernmost tip of Iki, which has been selected as a natural monument.
Access to the island is available during certain periods.
Before landing on the island, a cruise (40 minutes) around Tatsunoshima is recommended. You can feel the magnificence of nature in the fascinating contrast between where the ocean weaves into the land.
After landing on Tatsunoshima, you can enjoy the shallow beaches and magnificent nature.
Enjoy experiencing the sense of fulfillment on Tatsunoshima that you can only feel by being there.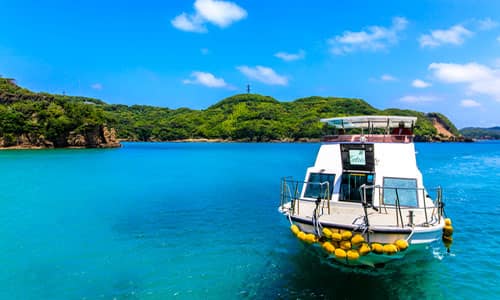 Iki has a flat topography and boasts blessings from the sea and mountains.
In particular, Iki is known for uni (sea urchin). Many people visit Iki for the "raw sea urchin" that can be tasted from spring through summer and there are many shops on the island where you can eat fresh sea urchin.
The soft, sweet flavor of "purple sea urchin" exquisitely spreads throughout the mouth, and the "red sea urchin" is characterized by a firm grain and rich sweetness. Please try the sea urchin when you visit Iki!
Location
Name
Tatsunoshima Beach Resort
Web Sites
http://www.ikikankou.com.e.lt.hp.transer.com/
Address
683-2 Gonoura-cho, Honmurafure, Ik-shi, Nagasaki
Access
About 1 hour and 5 minutes by high speed boat from Bayside Place HAKATA port (Hakata-ku, Chikkohon-machi)
About 2 hours 10 minutes by ferry from Hakata Port Terminal
Business Hours
8:30 to 17:30
Inquiries
TEL: 0920-47-3700