Tsutsuki Beach, one of Iki's most famous beach resorts, selected as one of Japan's top 100 swimming beaches
The seven Tsutsuki beaches, with their stretches of white sand and green pine trees, are a group of beaches that represent Iki. In particular, Tsutsuki Beach is Iki's top beach, having been selected as one of Japan's top 100 swimming beaches and one of Japan's top 100 seashores. The beach of fine, white sand stretches some 600 meters, and its wide, shallow waters and gentle waves attract large numbers of swimmers every summer. It is adjacent to Tsutsuki Beach Fureai Park, which has a camping ground, barbecue area, tennis courts, and other facilities, making this area one of Iki's most popular summer destinations.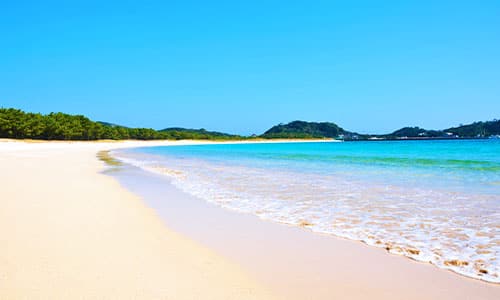 Tatsunoshima Beach - Play in the sea on an uninhabited island, accessible only in summer.
Tatsunoshima is an uninhabited island about five minutes by boat from Katsumoto Port, a town on the northern edge of Iki. During the summer season (March - October), ferries and sightseeing boats cross to the island from Katsumoto Port, allowing visitors to enjoy swimming on the beach there. The arc-shaped beach has a wide expanse of beautiful sand and shallow water. This highly popular spot draws cries of delight from tourists as they marvel at the clear waters of the ocean.
The beautiful sandy beaches and clear, blue seas that only Iki can offer. Nishikihama Beach
Just off Nishikihama Beach, the stunningly clear waters reach a depth of around 10 meters. It is a recommended diving spot, where divers can watch fish swim around the beautiful coral reefs and rocky shoals. The sand on the beach is white and exceptionally fine, and the contrast of the white of the beach, the blue of the ocean, and the green of the surrounding pine trees offers an exquisite scene that is definitely worth seeing. At the nearby dive shop and cafe, the taste of a cocktail sipped while listening to the waves and enjoying the location is something special.
Location
| | |
| --- | --- |
| Name | Tsutsuki Beach |
| Web Sites | http://www.ikikankou.com.e.lt.hp.transer.com/ |
| Address | 1916 Higashifure, Tsutsuki, Ishida-cho, Iki-shi, Nagasaki |
| Access | 70 min. by high-speed ferry from Hakata Port |
| Inquiries | TEL:0920-47-3700 (Federation of general Iki-shi sightseeing) |