Kunen-an consists of the retreat of the successful Saga businessman Yataro Itami, built in 1892, and the 6,800 m2 garden built over nine years starting in 1900. The retreat has thatched gambrel roof and clay walls panelled with cedar wood, and there are benches made from madake bamboo in the surrounding gardens, imbuing the area with a truly rustic vibe. This is a building in the Sukiya architectural style (traditional tea house architecture), with painstaking attention to detail in everything from the materials to the structure. The garden houses a wide variety of plants, such as azaleas and maples, covering the surroundings with beautiful scenery in all of the four seasons. In addition, the moss that covers the surface of the garden almost feels like a rug has been laid out. Kunen-an is opened to the general public every year during the fresh greens of spring and the autumn foliage of fall. Stop off to enjoy a stroll around Niiyama Shrine and the surroundings when you visit.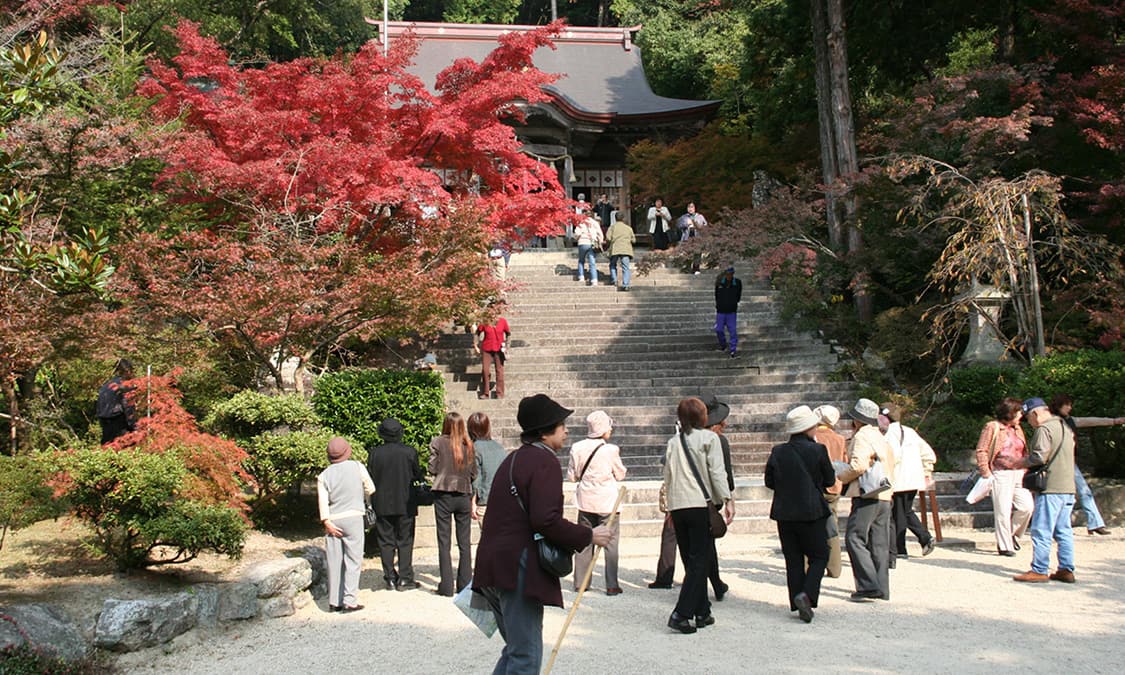 Niiyama Shrine enshrines the god of the mountains and the god of agriculture. The local people affectionally call it "Sanno-san" (mountain king). In early April every 12 years during the Year of the Monkey, the shrine holds a Great Onda Festival where performances of the Prefectural Important Intangible Folk Cultural Property, "Ondamai" are dedicated. At the entrance to the pathway to the shrine, there is the Nio-mon gate, which was built in the Edo period. The pair of Kongorikishi Buddhist statues that is designated an Important Cultural Property of the city is enshrined here.
In addition, the shrine is home to huge, 800-year-old and 600-year-old camphor trees. Their breathtaking magnificence makes those who view them feel wonderfully recharged. There are many old maple trees in the grounds of the shrine. During the fresh greens of spring and the autumn foliage of fall, the shrine and the neighboring Kunen-an attract many visitors.
Location
Name
Kunen-an
Web Sites
(In Japanese) http://kanzaki.sagan.jp/kanzakiblog/?page_id=7
Address
1696 Ikuwa Kanzakimachi, Kanzaki-shi, Saga
Access
Approximately 10 minutes by taxi from Kanzaki Station on Nagasaki Main Line
Approximately 10 minutes from Higashisefuri IC on Nagasaki Expressway
Business Hours
8:30 to 16:00
Inquiries
TEL: 0952-37-0107 (Commerce and Tourism Division, Kanzaki City)
Admission
Maintenance and care fee (for high school age and above): 300 yen per person
Parking fee: Private car: 500 yen; Mid-size bus: 2,000 yen; Large bus: 3,000 yen
Others
Period of the event: Open to the public in spring (early May) and fall (November 15 to 23)