Ruins of Ryousenji Temple
The origins of Japanese green tea
Ryousenji Temple was known as the Seburi Senbo, a place where monks would undergo ascetic training. Monks from China came to Japan and trained there in the Nara Period (710 - 794). It is said that, in 1191, some 800 years ago, Eisai Zenji, the founder of the Rinzai School of Buddhism, completed his training in So (the ancient Japanese name for China) and brought home some tea plant seeds to use as a medicinal herb. He is said to have planted them in the Iwakamibo garden in the grounds of Ryosenji Temple, in Yoshinogari Town, Saga Prefecture. The only remaining building is the vacant temple lodging, Otogo Hodo, but the scene of the tea plantations and the Saga Plain stretches out behind you.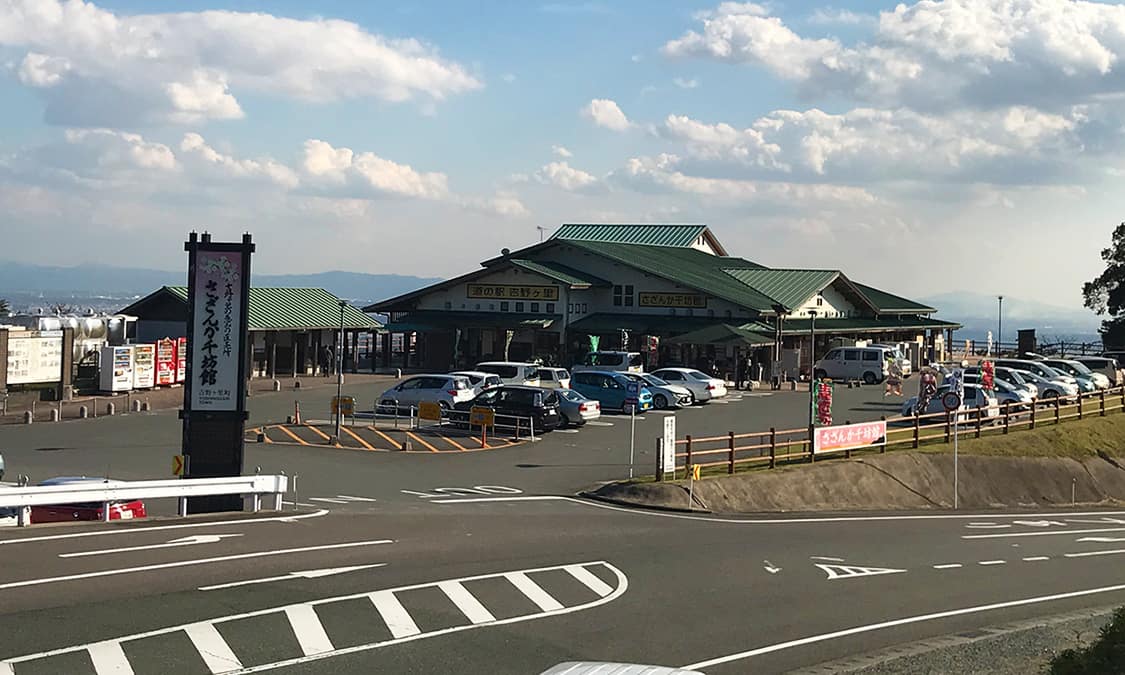 Michi-no-eki Yoshinogari Sazanka Senbokan
The roadside rest area, Yoshinogari Sazanka Senbokan, has a farmers' stand that sells local Yoshinogari produce directly to consumers. It also offers meals, bread made with the delicious spring water of Mount Sefuri, and desserts made only with seasonal fruits. There is also a lookout that offers panoramic views of the Saga and Chikugo Plains. The nightscape from this vantage point is particularly beautiful. A three-minute walk from Sazanka Senbokan is the "Sazanka Jisei Hokugen Chi", a designated natural monument of Japan which is the northernmost point where Camellia sasanqua grows in the wild. From late October to mid-November, the entire area is covered in the pretty white flowers of the Camellia sasanqua.
Higashisefuri Onsen Sazanka-no-Yu
Higashisefuri Onsen Sazanka-no-Yu is a day-trip hot spring facility that revolves around the theme of tea. It has a wide variety of hot spring baths to enjoy, including a Catechin Bath, which contains tea, and a Panorama Open-Air Bath, which has sweeping views of the Sefuri mountain range. There is also a restaurant offering meals made with local ingredients, a lounge area that can also be used for parties, and a beauty salon. Given its location on top of a hill in this mountainous region, it offers panoramic views of the Saga Plain from the Open-Air Bath and the Family Bath. At night, body and mind will be soothed under the nightscape and the starry skies.
Location
| | |
| --- | --- |
| Name | Ruins of Ryousenji Temple |
| URL | https://www.saga-tripgenius.com/tourism_search/archives/17 |
| Address | 1923 Kuseya, Matsuguma, Yoshinogari-cho, Kanzaki-gun, Saga |
| Access | Approximately 20 minutes' drive from the Higashisefuri IC |
| Inquiries | 0952-52-5111 (Commerce, Industry and Tourism Division, Yoshinogari Town Office) |
| Admission | Free admission |