A magical all-night-long dance performance passed down from generations in the Okumikawa area in Aichi Prefecture
The Hana Matsuri festival is an annual Shinto ritual recognized as an intangible important cultural property held from November through January in different locations in the Okumikawa area, Aichi Prefecture. Handed down through generations over 700 years, approximately 40 different kinds of dances are performed throughout the night to banish evil spirits and pray for good health and an abundant harvest.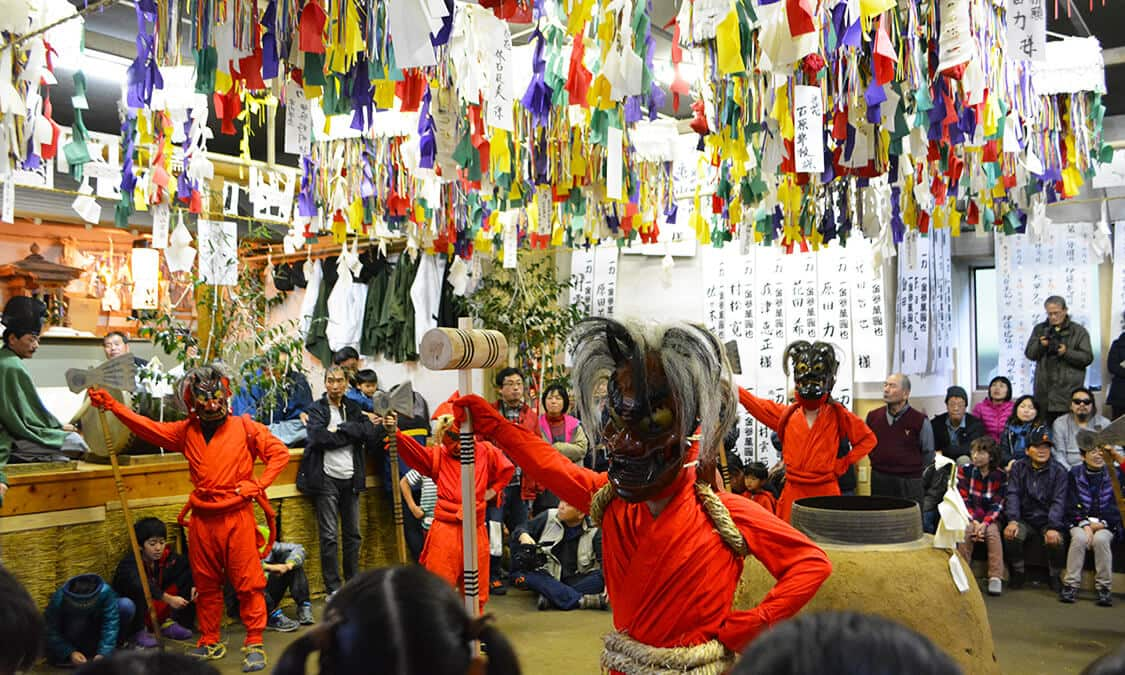 The Hana Matsuri festival is a Shinto performing art used to invoke the rejuvenation of the sun's power around the time of the winter solstice. The current festival style is said to have been adopted about 400 years ago. Although the style differs depending on each location, in most cases, several dozen types of dance sessions such as the oni (ogre) dance as well as rituals are held all night long. Many visitors come also from outside of the towns and chant "teehohe, tehohe" together with the performers throughout the event. Currently, the Hana Matsuri festival takes place in 14 locations within Toei, Toyone, and Shitara districts.
The Hana Matsuri Kaikan located in the town of Toei exhibits audiovisual materials related to masks, costumes, and equipment used in the festival as well as old documents. Dolls wearing costumes are displayed in the dance area known as maido, exuding a unique beauty of the Hana Matsuri while letting you feel as if you were actually at the festival. You can also watch a video digest of the festival on a large 55-inch monitor at the audiovisual booth.