Minamichita Hot Spring Village
Warm-weather hot spring resort on the Chita Peninsula in Aichi Prefecture that offers spectacular views
Minamichita Hot Spring Village is comprised of Utsumi, Yamami and Toyohama hot springs in the Ise Bay area in the southern end of the Chita Peninsula. The breathtaking sight of the sun setting over the Ise Bay and the airplanes landing at or taking off from Chubu Centrair International Airport are the pride of Minamichita Hot Springs. The chloride-rich hot spring waters containing sodium and calcium are said to be effective in alleviating fatigue and chronic skin inflammation.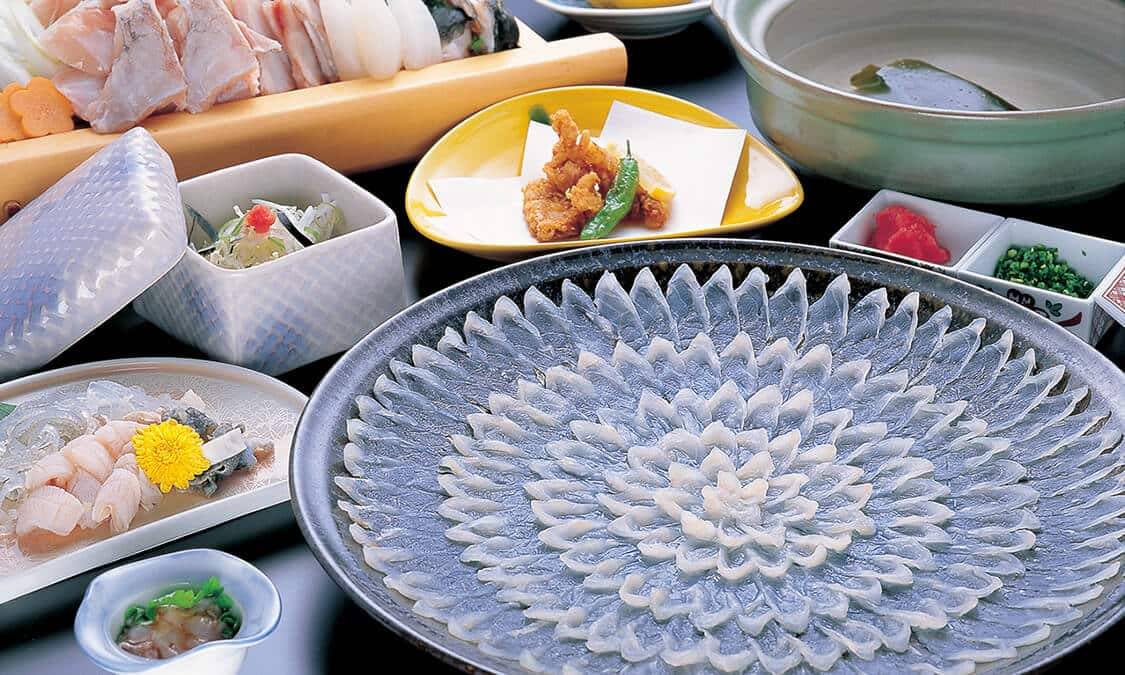 Wild tiger puffer: Local delicacy of the Chita Peninsula
Tiger puffer, or "torafugu" in Japanese, is a famed delicacy in the winter season. Aichi Prefecture is one of the major producers of natural tiger puffer in Japan. Currently, around 80 boats are dedicated to tiger puffer fishing using a special method to pull the fish one by one out of the water so as to avoid damaging them. During the months of October through March, this local specialty can be enjoyed at many hotels in the Minamichita Hot Spring Village, which is located near the fish harbor where tiger puffer are landed. Feast on this winter delicacy that can be served in various ways such as "tessa (sashimi, or raw tiger puffer thinly sliced)," "tecchiri (hot pot)" and fried. It goes without saying that in addition to tiger puffer, the area offers delicious seafood in season throughout the year.
Shinojima and Himakajima islands that exude remoteness
Shinojima and Himakajima are two remote islands floating off the shore of the Chita Peninsula, which can be easily accessed in about 10 to 20 minutes via an express ferry from Morozaki Port located at the point of the peninsula. Deeply related to the Ise Grand Shrine since ancient times, Shinojima presents sea breams caught around the island to the shrine three times a year. The traditional offering ritual in which a group of boat heads for the shrine is nothing short of spectacular. The other island, Himakajima, is famous for its catches of octopus. The most popular dish is "tako-meshi," or rice with octopus. The rich aroma of its red-tinted rice surely will whet your appetite.
Location
| | |
| --- | --- |
| Name | Minamichita Hot Spring Village |
| Web Sites | http://minamichita-kk.com/en/ |
| Address | 31-2 Utsumi Mazukari, Minamichita-cho, Chita-gun, Aichi |
| Access | Approximately 5 minutes' walk from Utsumi Station on the Meitetsu Chita New Line (Minamichita Town Tourism Association) |
| Inquiries | TEL: 0569-62-3100 |
| Admission | Differ depending on facilities. Please see the websites for details. |