Godzilla Rock and Unosaki Beach

Unosaki beach and a rock resembling Godzilla, the two landmarks on the southern coastline of the Oga Peninsula
Unosaki beach stretches out for 1.5 kilometers along the southern coastline of the Oga Peninsula. Regarded as a symbol of the peninsula because of the beautiful view of its rocky terrain and wide coastline, Unosaki was chosen among Japan's 100 best beaches. A rock resembling Godzilla in shape can be found in the reefy area of Cape Shiose located about 6 kilometers west of Unosaki beach. When the sun sets by its mouth, a silhouette of Godzilla blowing fire into the ocean emerges. Discover the amazing geological wonders which nature has carved during the long history of planet earth.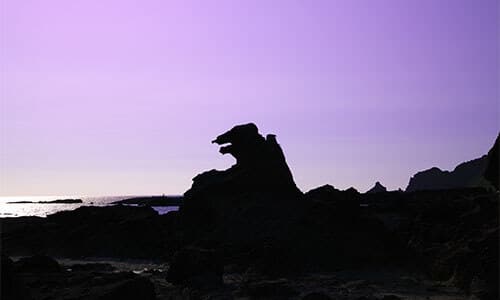 Located in the southwestern end of the Oga Peninsula, a rock resembling the shape of Godzilla creates a striking view during sunset, when the rock emerges in a silhouette of Godzilla blowing fire into the red sky. Visitors can enjoy various expressions of Godzilla depending on the viewing angle of the rock.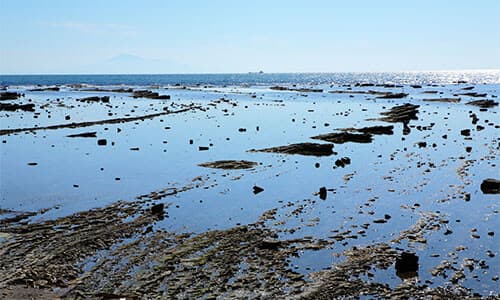 Unosaki beach is located about 10 minutes' drive from the Godzilla Rock. When the tide goes out, you can walk on the shore as the water becomes shallow for about 200 meters from the coastline. It offers a natural playground ideal for families with small children to explore the beach and find seashells with peace of mind. The beach is also famous for its stunning sunset view.
Location
| | |
| --- | --- |
| Name | Godzilla Rock and Unosaki Beach |
| Website | https://stayakita.com/things-to-do/things-to-do-477 |
| Address | Babazaki, Honzanmon-mae, Funagawaminato, Oga-shi, Akita |
| Access | Approximately 30 minutes' bus ride from Oga Station on the JR Oga Line |
| Inquiries | TEL: 0185-24-9141 (Oga City Tourism Division) |