An edifice of natural Akita cedar that conveys the prosperity of Noshiro
The Former Ryotei (luxurious Japanese restaurant) Kaneyu is a valuable historical building symbolizing Noshiro, the "wood capital" in Akita Prefecture. Ryotei Kaneyu was established in 1890, and the current building was built in 1937. The elegant construction using high-quality timbers of natural Akita cedar attracts many people to this day. The former restaurant conveys to the present the flourishing culture of the wood capital of Japan.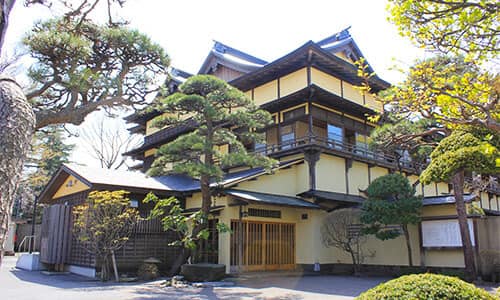 The former Ryotei Kaneyu was founded by the first Yusuke Kaneya as a rental hall for social gatherings. Constructed using plenty of Akita cedar, it was renowned as one of the best ryotei in the prefecture and was widely used for various dinner parties, receptions and weddings. The current building was built in 1937 by the second Yusuke Kaneya. Instead of lavishly using Akita cedars, the current building uses only carefully selected wood, and there is only one Shiho-masa (highest-quality pillar with four wooden sides of all straight grain) in the building, which suggests that the material was sawn without waste. The restaurant was registered as a National Registered Tangible Cultural Property in 1998, but later closed in 2008 and was donated to Noshiro City the following year.
Location
| | |
| --- | --- |
| Name | Former Ryotei Kaneyu |
| Website | http://www.kaneyu.jp/?page_id=102 |
| Address | 13-8 Yanagi-machi, Noshiro-shi, Akita |
| Access | Approximately 10 minutes' walk from Noshiro Station on the JR Gono Line |
| Inquiries | TEL: 0185-55-3355 |
| Admission | Free admission |