Oyama Sankei (Mount Iwaki)

Purify your heart at the sacred Mount Iwaki
Mount Iwaki, the highest peak in Aomori, is often referred to as the Tsugaru Fuji because of its beautiful conical shape. The mountain serves as a spiritual symbol for the local people and has long been worshipped. Oyama Sankei is a traditional event held over three days in August every year in which a large number of worshippers climb the mountain to pray for a bountiful harvest and household safety. On the last day, participants march to the top of the mountain and revere the light of the rising sun.
During the three-day event, a group of worshippers walk up the path to Iwakiyama Shrine on the first day referred to as "Mukaiyama." On the following day, called "Yoiyama," worshippers dressed in white attire parade from the Hirosaki City Iwaki Office to the shrine holding golden "gohei" sacred wands and colorful banners chanting "saigi, saigi" to the accompaniment of traditional drums and flutes.
On "Tsuitachiyama," or the last day of the event held on August 1 on the lunar calendar, participants start climbing to the summit through rocky terrain at the midnight hours, relying only on a flashlight. Upon reaching the top, they pray with their palms together as the sun rises.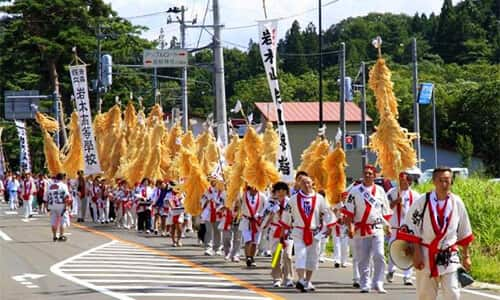 When the event was designated as a National Important Intangible Folk Cultural Asset in 1984, the annual "Let's Walk: Oyama Sankei" was organized to allow more people experience this cultural event. In addition to the Yoiyama parade on the second day, participants can enjoy local delicacies as well as various hot springs in the Tsugaru region.
Location
| | |
| --- | --- |
| Name | Oyama Sankei (Mount Iwaki) |
| Website | https://www.en-aomori.com/culture-019.html |
| Address | 27 Terasawa, Hyakuzawa, Hirosaki-shi, Aomori |
| Access | Approximately 40 minutes' bus ride from JR Hirosaki Station |
| Inquiries | TEL: 0172-83-3000 |