Tsutanuma Pond and Tsuta Onsen

Beautiful native forest adorned with fresh greenery in May and autumn foliage in October
Deep in the Towada-Hachimantai National Park in Aomori Prefecture is the Tsutanuma Pond, which is one of the seven ponds collectively known as "Tsuta no Nana Numa" (the seven ponds of Tsuta) along with Kagaminuma, Tsukinuma, Hyotannuma, Suganuma, Naganuma and Akanuma ponds. Surrounded by native beech trees adorned with seasonal colors such as fresh greenery in May and the stunning shades of autumn leaves, the pond fascinates visitors with picturesque landscapes. The perfect photo opportunity is the moment when the morning glow illuminates the entire area in beautiful red hues and the autumn leaves are projected on the water surface. However, such a breathtaking scenery can only be seen when certain conditions allow - the moment when the early morning sun rises on a quiet, cloudy day without wind.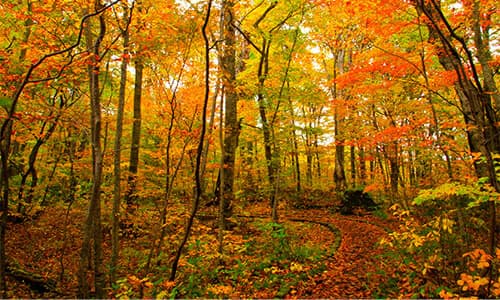 Immerse yourself in the hot spring waters of Tsuta Onsen enjoyed over 850 years
Nestled in the hillside of the South Hakkoda Mountains near the Tsutanuma Pond, the Tsuta Onsen Japanese traditional inn has been appreciated as toji, or a hot spring cure, for over 850 years. The main building constructed in 1918 has a nostalgic feeling, conveying the ambience of the time. The clear, acidic sulfur hot water bubbles up directly from the ground source through the floorboards of the wooden bathtub. Located in secluded forests, Tsuta Onsen has been appreciated by people as a place to get away and relax in perfect harmony with nature.
The seven ponds of Tsuta where only chirps of wild birds and sound of water echo
"Tsuta no Nana Numa" is a collective term for the seven ponds, namely, Tsutanuma, Kagaminuma, Tsukinuma, Hyotannuma, Suganuma, Naganuma and Akanuma ponds. The area near the Tsuta Onsen inn has a 2.8-kilometer hiking trail named "Numa Meguri no Komichi" that allows visitors walk among the six ponds, except Akanuma, in about two hours. The trail along the primeval forests filled with Japanese beech and Mongolian oak trees is cool in summer and beautiful in autumn with colored leaves. The entire area is also the home to a wide variety of wild birds, where you can enjoy a leisurely, tranquil stroll amid the chirps of birds and the sound of water. Every year in October, many photographers visit the area to capture the wonderful view of the autumn leaves.
Location
Name
Tsutanuma Pond and Tsuta Onsen
Website
https://tsutaonsen.com/en/
Address
1 Okusetsutanoyu, Towada-shi, Aomori
Access
From JR Aomori Station, take a JR bus for approximately 2 hours and 10 minutes
Approximately 90 minutes' drive from JR Aomori Station
Inquiries
TEL: 0176-74-2311