Indulge in a nostalgic journey through seasonal landscapes along the Tsugaru Railway Line
Running 20.7 kilometers from Goshogawara Station to Tsugaru Nakasato Station in Aomori Prefecture, the Tsugaru Railway Line operates seasonally themed trains suited to each season of the year. In spring, the retro-looking train runs on the railway track laid in Ashino Park under a beautiful arch of cherry blossoms, while passengers can enjoy a journey through a tranquil rural landscape listening to the relaxing sound of "furin" wind bells in summer and bell-crickets singing in autumn. The famous stove train in wintertime has a coal potbelly stove placed inside and runs through the snow-covered fields while letting the passengers warm up in the snug and cozy atmosphere.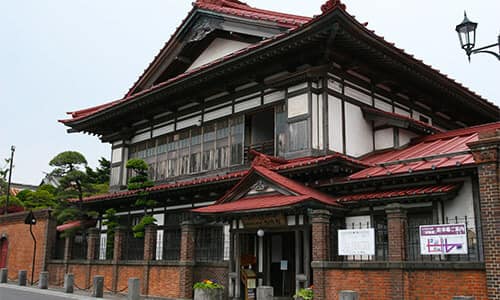 The birthplace of Osamu Dazai
The classic diesel train of the Tsugaru Railway is nicknamed "Hashire Merosu, " or "Run! Melos," which is the title of a short story written by Japan's leading novelist, Osamu Dazai, in 1940. The town of Kanagi-cho (the current Goshogawara City) where Dazai was born can be accessed from Kanagi Station. In addition to his former house located within walking distance of the station, many architectures and landscapes depicted in his novels are still scattered throughout the town. Taking his novels such as "Tsugaru" or "Memories" with you may add to the enjoyment of walking through Dazai's hometown.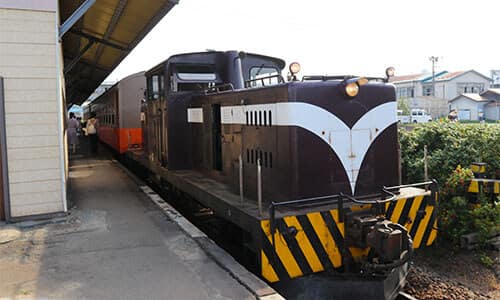 Experience a winter attraction in summer
The stove train is a popular feature in wintertime, but there is a chance to ride it during a limited period in mid-summer (for a few days in early August). As the coals in the stove are burnt in the same way as in wintertime, the temperature inside the car rises up to 45 to 50 degrees Celsius. Once the train starts to run, feast on the "surume" dried squid grilled on the stove washed down with chilled beer or soda amid the sweltering heat while feeling the pleasant breeze through the windows. You can also enjoy a Tsugaru-shamisen (three-stringed traditional Japanese musical instrument) live performance, which makes the journey a perfect treat on a summer day.
Location
| | |
| --- | --- |
| Name | The Tsugaru Railway Line |
| Website | (In Japanese) http://tsutetsu.com/ |
| Address | Asahi-cho, Goshogawara-shi, Aomori |
| Access | Within Goshogawara Station on the Tsugaru Railway |
| Inquiries | TEL: 0173-34-2148 |