Japan's best sunset view from the Gono Line
The Gono Line is a 147-kilometer train track that runs between Higashi-Noshiro Station in Noshiro City, Akita Prefecture, and Kawabe Station in Inakadate Village, Minami-tsugaru-gun, Aomori Prefecture. The train mainly runs along the coast of the Sea of Japan through a series of stunning seascapes. The sunset view will especially take your breath away.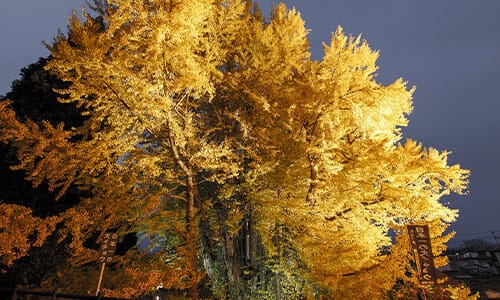 Japan's largest ginkgo tree
The largest ginkgo tree in Japan is located 10 minutes' walk from Kitakanegasawa Station in the town of Fukaura in Aomori Prefecture. Estimated to be around 1,000 years old, the tree is 31 meters high, which is equivalent to a 10-story building, with a trunk circumference of 22 meters. The tree is designated as a Natural Monument of Japan. It has long been worshipped as a sacred tree, while legend has it that it will improve lactation if you touch the drooping aerial roots that resemble breasts in shape.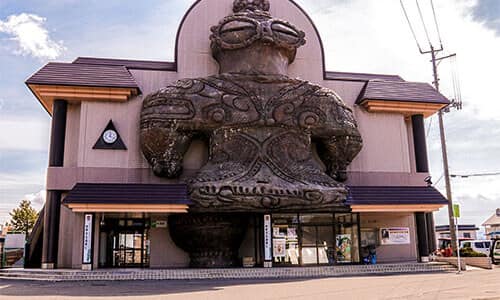 A station where a gigantic dogu figurine welcomes you
"Dogu" are clay figurines made during the late Jomon period (3000-200 BC) of prehistoric age in Japan. Kizukuri Station in Tsugaru City in Aomori Prefecture has a gigantic "Shakoki-dogu" statue built into its facade. The 7.3-meter statue is not only eye-catching for its massive size but also famous for the so-called "welcome beam," or the red flash its eyes emit every time a train arrives. Nicknamed "Shako-chan," the statue imitates the shape of a Shakoki-dogu figurine excavated from the Kamegaoka site in Aomori.
Location
| | |
| --- | --- |
| Name | The Gono Line |
| Website | (In Japanese) https://www.jreast.co.jp/akita/gonosen/ |
| Address | 92 Sekitochizawa, Fukaura-machi, Nishitsugaru-gun, Aomori |
| Access | Within Kitakanegasawa Station on the JR Gono Line |
| Inquiries | TEL: 050-2016-1600 |