Shimokita Peninsula cuisine

Enjoy fresh seafood at reasonable prices at Shimokita Peninsula's inns
Shimokita Peninsula in Aomori Prefecture is the northernmost point of Japan's Honshu main island. It faces the Tsugaru Strait where warm and cold currents meet and is surrounded by the sea on all sides, making it a treasure trove of fresh seafood. Oma tuna, Mutsu Bay scallop, Tsugaru Strait sea urchin and raw squid - the list of delicacies are endless - and conquering them all would be quite a feat. How about staying at a minshuku (small guesthouse type inn) or ryokan (larger inn) in the Shimokita Peninsula, where you can relax and enjoy various seafood at reasonable prices?
Shimokita Uni Road for sea urchin lovers
The Shimokita Peninsula is a hub of delicious sea urchin. The Tsugaru Strait, where warm and cold currents collide, is a beneficial area since both warm and cold seaweeds grow, making a good habitat for Kita purple sea urchins. It's only natural that sea urchins taste better when they feed on good seaweed. While the fishing season is different for each of the five municipalities in the Shimokita area, if you stay at a guesthouse in the Shimokita Peninsula during March to August, you are guaranteed to taste fresh raw Kita purple sea urchin.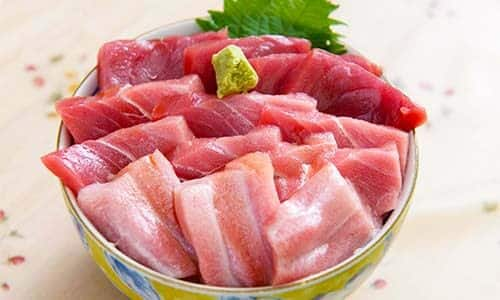 Famous as a luxury seafood, Oma tuna is a something you'll want to try at least once in your lifetime. The fishing season starts from the Big Catch Prayer Festival held on Marine Day in every July and ends at the end of the year for the first wholesale produce market of the year. At minshuku inns in Oma Town in the northernmost part of Honshu, a course menu offers delicious fresh tuna. Enjoy all kinds of Oma tuna parts from fatty, medium-fatty and red flesh. At Cape Oma, a tuna monument is erected where the island of Hokkaido can be seen right in front of you. Be sure to take a commemorative photo after feasting on Oma tuna here!
Landed alive! Kazamaura anglerfish
Kazamaura anglerfish are deep-sea fish, but are landed alive, a rare method in Japan. The liver has very high-quality fat and is mild in flavor and the meat is fresh enough to be eaten as sashimi or sushi. Anglerfish hot pot is also a must-eat. The fishing season is from December to mid-March. During this period, you can enjoy a full course meal of anglerfish dishes at the Anglerfish Festival held at Shimofuro Onsenkyo hot spring resort in Kazamaura Village. Enjoy the various special anglerfish dishes of each ryokan inn together with the rich-quality hot springs.
Location
| | |
| --- | --- |
| Name | Shimokita Peninsula cuisine |
| Website | https://www.en-aomori.com/shops_063.html |
| Address | 2-13-33 Omagari, Mutsu-shi, Aomori |
| Access | Approximately 10 minutes' drive from JR Shimokita Station |
| Inquiries | TEL: 0175-22-3231 (Hokusai Market Shimokita Meisan Center) |