Mikuni Port, Fukui: Enjoy Seaside Leisure and Learn about the Mikuni Festival and History at the Mikuni Museum
Mikuni Port in Sakai City, Fukui Prefecture is a port of call on the Kitamaebune shipping route. If you're sightseeing in the area, you should check out the Mikuni Museum, where you can learn about the Mikuni Festival and the history of Mikuni Port. There are also a variety of seaside leisure activities to enjoy, such as swimming in the sea, watching fireworks and marine sports.
Mikuni Port Town right next to the port thrived from the Edo period to the early days of the Meiji period as a port of call on the Kitamaebune shipping route connecting Hokkaido and Osaka. The streets are lined with townhouses with latticed doors and merchant houses that preserve traces of the area's prosperous past. The old townscape will evoke images of the hustle and bustle of the town's heyday.
Mikuni Museum is close to Mikuni Port. It is a hometown museum housed in a restoration of Ryusho Elementary School built based on a design made by Dutch engineer George Arnold Escher in 1879. Here, you can view a model of one-fifth of the Kitamaebune shipping route and an 11-meter-tall float used in Mikuni festival. The museum houses relics and photos from literary talents with connections to Mikuni, such as a restoration of the library of Jun Takami, the writer from Mikuni. These exhibitions evoke nostalgic images of times gone by.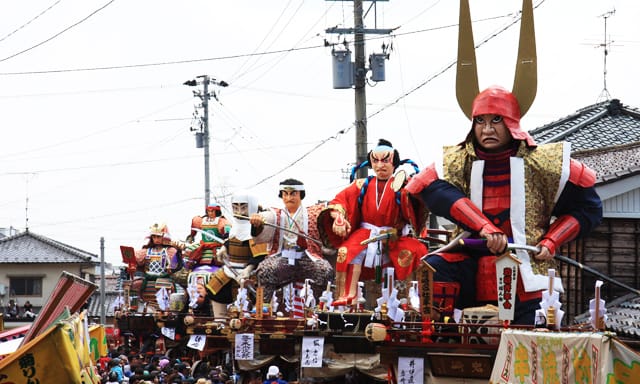 At Mikuni Festival, huge warrior doll floats are paraded around the town. It is famous for being one of the great three festivals of the Hokuriku region. On May 20, the middle day of the festival, tourists come to watch a parade of warrior doll floats reaching up to 5.5-meters high. The streets in the vicinity of Mikuni Shrine are lined with nostalgic performance huts, street stalls, and stands bringing the spirit and hustle and bustle of port town Mikuni to the present day.
This is a swimming beach stretching across Mikuni Bay. With waters staying shallow for a considerable distance from the shore, the beach is popular for families who bring children. On August 11 every year, it becomes the main venue for the largest fireworks display in the Hokuriku region. 5,000 fireworks are launched, including set pieces and starmine fireworks. The diverse fireworks also include fireworks launched from water that look like the Niagara Falls. These fireworks fill the sky with dazzling colors, and their vivid reflections dancing off the waters of the sunset beach is truly a sight to behold. When the season is right, the area turns into a marine resort popular with young people who enjoy yachting and windsurfing.
Location
| | |
| --- | --- |
| Name | Mikuni Port |
| Web Sites | (In Japanese) https://www.fuku-e.com/010_spot/?id=146 |
| Address | 4-6-55 Kitahonmachi, Mikuni-cho, Sakai-shi, Fukui (Mikuni Minato Machiyakan) |
| Access | Approximately 10 minutes' walk from Mikuni Station on Echizen Railway |
| Inquiries | TEL: 0776-82-8392 (Mikuni Minato Machiyakan) |