Mount Bandai, located in the town of Inawashiro in the Yama district of Fukushima Prefecture, is a popular site for enjoying hiking or trekking. There is something to enjoy in every season: blooming flowers in spring, hiking along the Goshikinuma Walking Trail in the summer, the colored foliage that covers the mountain during fall, and skiing or snowboarding in winter.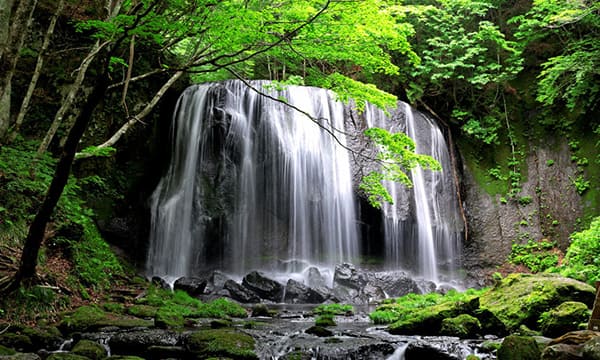 The Goshikinuma, or Five Coloured Pond, Walk is by far the most popular amongst both domestic and foreign hikers. Although fairly short at about four kilometres the trail connects over forty ponds and lakes, including the area's five major lakes at the base of Mount Bandai: Bishamon, Aka, Midoro, Benten and Ao. Due to the volcano's eruption minerals were deposited in the newly-formed ponds and lakes giving them various shades of colours from green to blue and even slightly purple. As you take a moment to enjoy the scenery before you, you may notice that the shades change over time as the sun moves along the sky.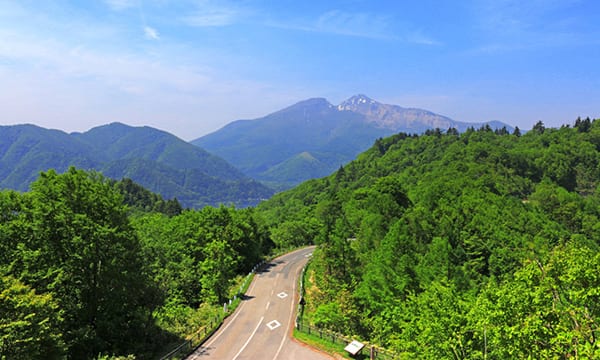 When Mount Bandai last erupted in 1888 its lava flew into the Nagase River blocking off much of its natural flow and created the incredibly beautiful highland landscape with over 100 small ponds and lakes varying in size. The landscape known as Urabandai, which literally means "behind Bandai", became popular amongst hikers eager to explore the vast forests and plains along the seemingly endless hiking trails the area came to offer.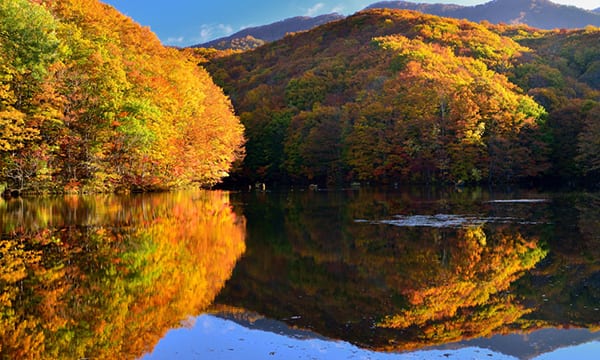 While in spring the countless mountain flowers bloom in a great variety of colours, in autumn the trees' leaves start changing engulfing the highlands in shades of bright red, orange and yellow. Due to its elevations Urabandai continuously offers a new view to admire the scenery from and you may even find yourself taking another moment to do so after just taking a few steps.
As autumn passes, winter comes to Mount Bandai. At 1816 meters tall, Mount Bandai is one of Japan's most iconical mountains and has even earned the nickname Aizu-Fuji, the Fuji of Aizu, due to its resemblance to Mount Fuji. Along its slopes you will be able to find multiple ski resorts offering slopes with top-quality snow for any skill level of skiers and snowboarders and of course the natural beauty of the Highlands before you. These resorts tends to be open around mid-December to late April and some even offer shuttle bus services from and to their nearest train stations.
Location
| | |
| --- | --- |
| Name | Mt. Bandai |
| Inquiries | Inawashiro Tourist Assosiation |
| Address | 1-4 Oogida, Chiyoda, Inawashiromachi, Yama-gun, Fukushima-ken |
| Telephone | 0242-62-2048 |
| Web Sites | http://www1.bandaisan.or.jp/ib/en/ |