Hanamiyama Park filled with beautiful colorful flowers
This park is a popular spot, known as a hidden paradise of Fukushima, for its overwhelming scenery filled with color. In spring, thousands of flowers in different varieties bloom, including not only cherry blossoms, but also plums, forsythia trees, and camellias.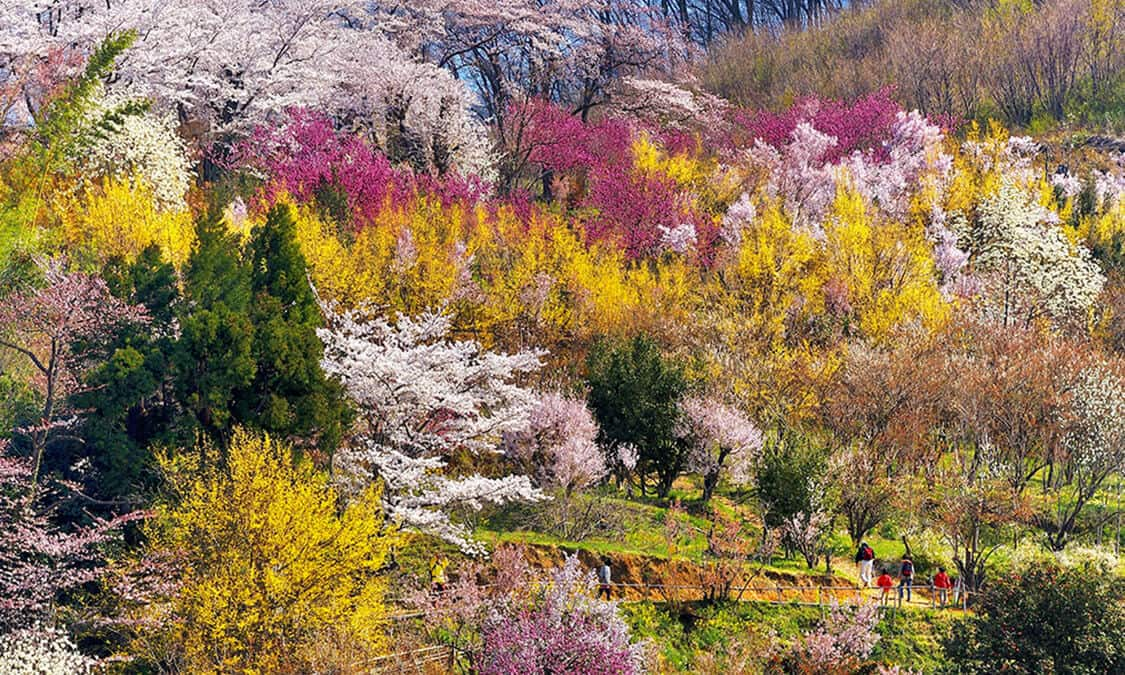 Hanamiyama Park was first started by farmers in 1936, who cleared forest in front of their land and planted flowers. After a long time, it became so beautiful that people started to visit, and later in 1959 was opened to the public as Hanamiyama, or "flower-viewing mountain." A large variety of flowers, such as plum, forsythia, quince, dogwood, magnolia, and peach blossoms bloom in spring, creating a paradise-like atmosphere.
Hiking while viewing adorable flowers
Hanamiyama Park, a private property owned by the Abe Family, is open to the public. Cherry blossom viewing is available for taking a stroll through the property but is not accessible for picnics and parties. There are three routes (30-minute, 45-minute, and 60-minute courses) for a pleasant walk for those who want to hike as well as enjoy the beauty of nature.
Location
Name
Hanamiyama Park
Website
https://fukushima-guide.jp/discover/hanamiyama/
Address
Watari, Fukushima-shi, Fukushima
Access
Take a bus from JR Fukushima Station, get off at Hanamiyama Koen Iriguchi bus stop, and walk for approximately 20 minutes *1
*1 There is a special bus service from JR Fukushima Station during the flower viewing period.
Inquiries
TEL: 024-531-6428 (Fukushima City Tourist information Center)