Visiting Famous Spots in Gifu, Gifu Castle (Inabayama Castle) by Mount Kinka Ropeway
Gifu Castle is one of the most famous spots in Gifu City, Gifu Prefecture. It can be accessed by Mount Kinka Ropeway. The castle, formerly called Inabayama Castle, sits atop the peak of Mount Kinka. Don't miss out on the night view from the castle tower. The lights of the town stretching out before your eyes will leave a lasting impression. Of course, the view during the day is great, too.
Lord Dosan Saito was the lord of Gifu Castle during the warring states period. This castle particularly earned its reputation in August 1567 (one theory says 1564). This is when the great Lord Oda Nobunaga sieged the castle, conquering the whole region and changing its name from "Inokuchi" to "Gifu." He then made it a stronghold for uniting the whole country. Gaze out over the scenery from the castle tower and enjoy picturing such historical events.
The best place to view Gifu's night scenery is from Gifu Castle, Mount Kinka. Its beauty is widely known. Get to Gifu Castle on the peak of the mountain by Mount Kinka Ropeway, which also operates during the night. You can gaze out upon dazzling scenery from any angle, with a panorama comparable to an aurora - the bustling streets of Gifu City twinkle below you and the lights of Nagoya City can be seen in the distance.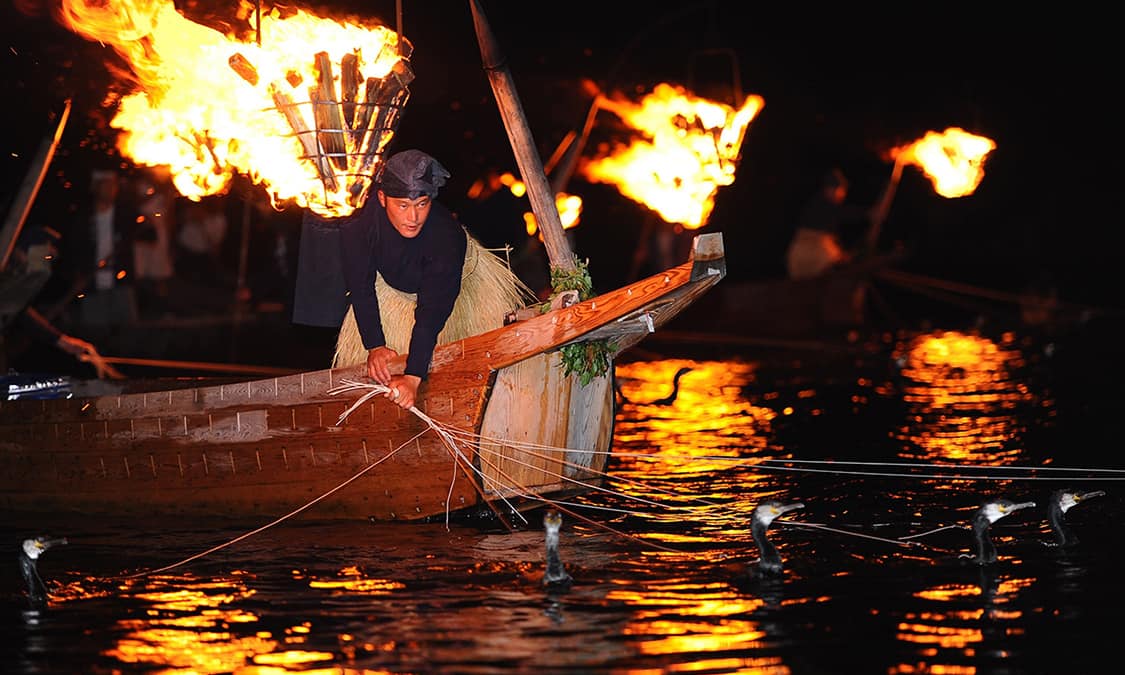 Gifu Nagara River cormorant fishing is a fishing technique with 1,300 years of history, whereby cormorant fishermen use cormorants to catch fish. It is carried out along the banks of the pristine Nagara River, against the backdrop of Mount Kinka and Gifu Castle standing prominently on the peak. In this traditional fishing technique, "Ukai", the light of vivid red burning fire lanterns is shone onto the surface of the river in the pitch black darkness of the night and cormorant fishermen and cormorant work as one. As you watch you'll be brought into a mystical realm - you'll forget the present day and feel like you've traveled back to ancient times.
Location
| | |
| --- | --- |
| Name | Gifu Castle |
| Web Sites | (In Japanese) http://www.city.gifu.lg.jp/3537.htm |
| Address | 18 Kinkazan Tenshukaku, Gifu-shi, Gifu |
| Access | 15 minutes by bus from JR Gifu Station or Meitetsu Gifu Station |
| Inquiries | TEL:058-265-3984 (Gifu City Tourism and Convention Division) |
| Admission | Adults: 200 yen Children: 100 yen |