If you wish to experience sea kayaking in Miyajima, we recommend Kayak Space Paddle Park in the town of Monomihigashi in Hatsukaichi City, Hiroshima Prefecture, or the Kurushima Watertrail in Nakadera, Imabari City in Ehime Prefecture. You can get close to Itsukushima Shrine, a World Heritage site, and paddle around the former haunts of the Murakami Pirates, who roamed the Seto Inland Sea in medieval Japan.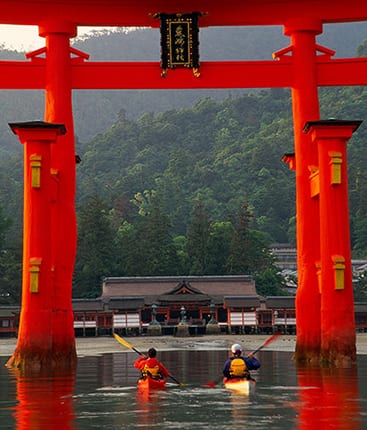 The "Miyajima Sea Kayak Tour" visits the world heritage, the Itsukushima Shrine
The tours of Kurushima Watertrail visit Kojoujima island, whichi is said to be the oldest pirate castle in Japan, and Kajitorinohana where there are remains of a castle. The tour also takes people around the sea areas that were once controlled by Kurushima Murakami, one of the three families of the Murakami Pirates. While they are not special tours that introduce the Murakami Pirates, it provides the unique opportunity to closely visit the seas once ruled by pirates. *1
*1 Tour courses may change depending on the condition of the sea and weather.
Location
Detail Information of KAYAK SPACE PADDLE PARK
Name
KAYAK SPACE PADDLE PARK
Address
1-2-9 Monomihigashi, Hatsukaichi-shi, Hiroshima-ken
Fare
Half a Day Course
Adult JPY 6,480 Including rent of the equipment for kayak, Instructions, Accident Insurance.
Child JPY 4,320(under 12 years old)
Start time
9:30, 13:00
Tour dates
All year round
Telephone
0829-50-4340 (Paddle Park)
Web Sites
(In Japanese) http://www.paddlepark.com/
Opening hours
11:00-19:00
Detail Information of Kurushima Watertrail

| | |
| --- | --- |
| Name | Kurushima Watertrail |
| Address | 425-5 Nakadera, Imabari-shi, Ehime-ken |
| Telephone | 0898-23-6494 |