Delicious wine produced from local wild grapes by a winery situated on a hill overlooking the Pacific Ocean
Suzumi-no-oka Winery, located in Noda Village along the Sanriku Coast, produces wine from wild grapes, which is a specialty of Iwate Prefecture. In addition to sales of its products, it offers a winery tour and a wine tasting experience for a limited period. Its location overlooking the ocean is a wonderful accompaniment to a glass of delicious wine.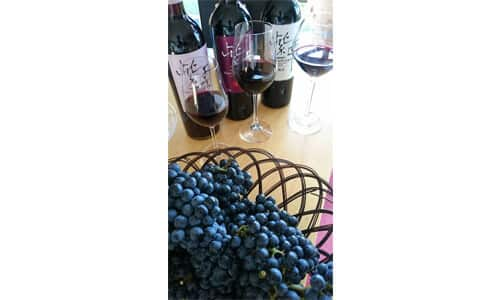 Very rare type of wine made from wild grapes
Iwate Prefecture is the top producer of wild grapes. The fruit contains a number of healthy properties, such as polyphenol, iron, and vitamins, and has long been enjoyed in different forms, like jam and juice. Those cultivated along the northern coastal area are especially high in quality and sweetness due to the cool breeze coming from the Pacific Ocean. Wine made from wild grapes is very rare, as the fruit itself is small in size and not too fleshy, with a lot of pips.
Location
Name
Suzumi-no-Oka Winery
Website
(In Japanese) https://www.suzuminookawinery.com/
Address
5-104-117 Tamagawa, Noda-mura, Kunohe-gun, Iwate
Access
Approximately 70 minutes' drive from the Kunohe IC on the Tohoku Expressway
Approximately 5 minutes' taxi ride or 10 minutes' walk, from Noda-Tamagawa Station on the Sanriku Railway
Business Hours
9:00 to 18:00
Closed
Irregular closing days
Inquiries
TEL: 0194-75-3980
Others
The tasting room only opens on Saturdays, Sundays, and national holidays between April and August.