Mysterious "dragon blue" underground lake
Ryusendo Cave in Iwaizumi, Iwate Prefecture, is one of Japan's three greatest limestone caves and designated as a national natural monument. The underground lake created by pristine water welling out of the cave is one of the most transparent in the world, called "dragon blue." The spot has also been drawing attention in recent years as a "lover's sanctuary," a romantic setting often visited by couples.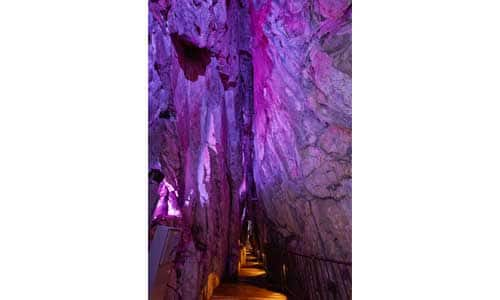 Inside the mystifying cave
Ryusendo cave is estimated to be over 5,000 meters long, with the interiors still undergoing survey. Around 700 meters of the cave is open to the public as a sightseeing course, and the main attractions include the formative beauty of stalactites and the mysterious dragon blue underground lake. The lake is beautifully illuminated by LED lights, emphasizing the beautiful dragon blue waters. During the Ryusendo Cave Festival held in spring, summer and fall, visitors can enjoy local performing arts as well as purchase various local specialties. If you are wondering why Ryusendo Cave was designated as a lover's sanctuary, it's because of a naturally formed heart-shaped spot inside the cave, said to be a place where lovers come together.
Location
Name
Ryusendo Cave
Website
http://www.iwate-ryusendo.jp/en/
Address
1-1 Kannari, Iwaizumi, Iwaizumi-cho, Shimohei-gun, Iwate
Access
Approximately 110 minutes' bus ride from JR Morioka Station
Approximately 140 minutes' drive from the Morioka IC on the Tohoku Expressway
Inquiries
TEL: 0194-22-2566