Enjoy seasonal landscapes in a beautiful gorge with two gigantic rocks soaring into the sky
Basenkyo is a beautiful gorge with Japan's tallest "meoto-iwa (married couple rocks)" labelled "Ogami-iwa (god rock)" on one side and "Megami-iwa (goddess rock)" on the other of the Mabechi River in the city of Ninohe in Iwate Prefecture. The gorge is filled with the natural beauty of four seasons such as the gorgeous autumn foliage. You can enjoy a dynamic scenery of the two rocks from the observation deck located upstream of Ogami-iwa.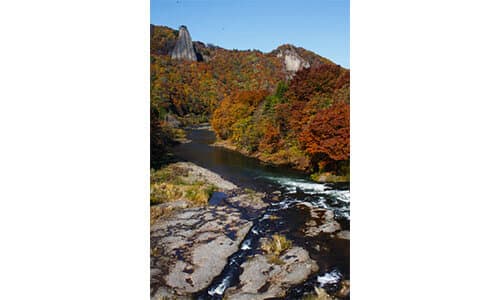 Japan's tallest married couple rocks surrounded by a lush deciduous forest of maple and beech
The 180-meter-tall Ogami-iwa and the 160-meter-tall Megami-iwa are standing high along the Mabechi River. The entire area is lined with deciduous trees such as maple and beech. Every season has its beauty at the gorge, but the fall colors and the lush greenery are especially magnificent. Basenkyo was at the bottom of the sea about 200 million years ago. The eruption of the submarine volcano approximately 7 million years ago formed the Ogami-iwa and the Megami-iwa rocks. Walking the road behind the two rocks takes you to the Ogamiiwa Observatory that offers a magnificent view over Ninohe City.
Location
| | |
| --- | --- |
| Name | Basenkyo Gorge |
| Website | https://visitiwate.com/en/article/4709 |
| Address | Kawara, Ishikiridokoro, Ninohe-shi, Iwate |
| Access | Approximately 5 minutes' taxi ride from JR Ninohe Station or IGR (Iwate Galaxy Railway) Ninohe Station |
| Inquiries | TEL: 0195-43-3213 |