Visiting the Shimanto River

Discover a variety of ways to enjoy the Shimanto River, the longest river in the Shikoku area, which flows through Shimanto City in Kochi Prefecture. You can try canoeing or rafting, board a sightseeing tour boat, or pass under the chinkabashi (bridges designed to be submerged during flooding) in a yakatabune (traditional Japanese houseboat). You can also try tasting local dishes made from wild eel or ayu (sweetfish) caught in the river or revel in the magnificent natural landscape created by the river and its surrounding mountains.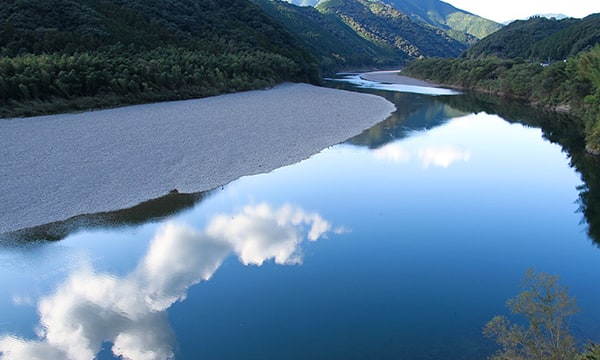 The Shimanto River flows from the mountains of the eastern section of the prefecture into the Pacific Ocean, and it is a symbol of the grand nature of Kochi. While many of the rivers in Japan are rapid and flowing straight, the Shimanto River meanders widely and flows slowly.
The Shimanto River is also referred to as the "last clear stream of Japan." This is due to the fact that while it is the longest river of Shikoku extending for 196km, there aren't any large dams obstructing its flow. The wandering path of the river through the mountains makes it difficult to carry out construction work. Thanks to this natural feature, its pristine nature remains untouched, and this precious, natural Japanese landscape created by the calm stream and mountains continue to attract people.
Leisure activities such as canoeing are also popular here, while going downstream on the Yakatabune (traditional Japanese houseboat) is also recommended from this season. Visitors will be able to relax and fully enjoy spectacular views on the extra clear Shimanto River of the winter.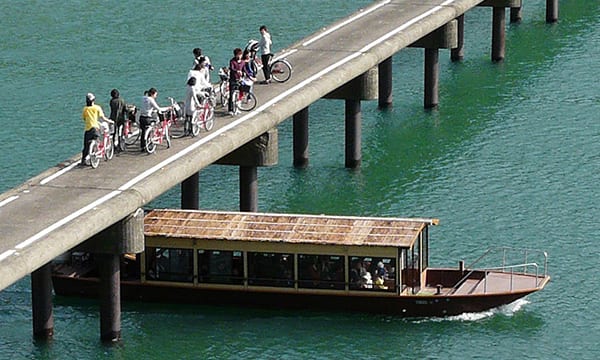 "Shimanto no Ao" is a Yakatabune (traditional Japanese houseboat) tour in Shimanto city, popular for its course along the winding Shimanto River. Sit back and enjoy the panorama of the grand nature with no concrete banks, houses or roads in sight.
The course will pass by two of the symbols of the Shimanto River, which are the Chinka Bridges. Since there aren't any large dams, the water level easily rises when there is heavy rain, sometimes causing floods. There are many of these Chinka Bridges along the Shimanto River, and they are designed to become submerged when the water rises in order to avoid disrupting the flow of the river. The simplicity of these rail-less bridges and the sceneries of the Shimanto River stirs a sense of nostalgia, while it also shows the spirit of the local people who embrace their way of life by accepting their natural surroundings.
The calm stream also brings many riches. The local eels and sweetfish are especially popular and well-known in other regions of Japan. The Shimanto no Ao tour offers the option of enjoying bento lunch boxes that are full of local delicacies from the river. A luxurious course meal that serves char-grilled eels as well as sweetfish can also be reserved for a charter plan.