Kumano Kodo Iseji Route Matsumoto-toge Pass

Meet the Jizo guardian statue on the beautifully paved mountain pass along the Kumano Kodo Iseji Route
Matsumoto-toge Pass, part of the ancient pilgrimage route Kumano Kodo Iseji Route in Kumano, Mie Prefecture, offers a great hike even for novice mountaineers. Enjoy walking on the beautiful stone-paved pathways and bamboo forest, and be greeted by a life-size Jizo guardian statue at the mountain top.
Kumano Kodo Iseji Route Matsumoto-toge Pass
Much of Matsumoto-toge Pass has preserved its intricate stone pavement, a staple of Kumano Kodo. At the mountain top surrounded by a bamboo forest, a large Jizo guardian statue awaits to greet hikers. Past Matsumoto-toge Pass, there is no other mountain pass through the Hama-kaido Route until reaching Shingu City. Pilgrims would have taken in the breathtaking view of Shichiri Mihama Beach and envisioned reaching the Kumano Hayatama Grand Shrine resting beyond the beach. Additionally, there is a walking path from a gazebo to Onigajo, or "Demon's Castle," a World Heritage site of spectacular rock formations.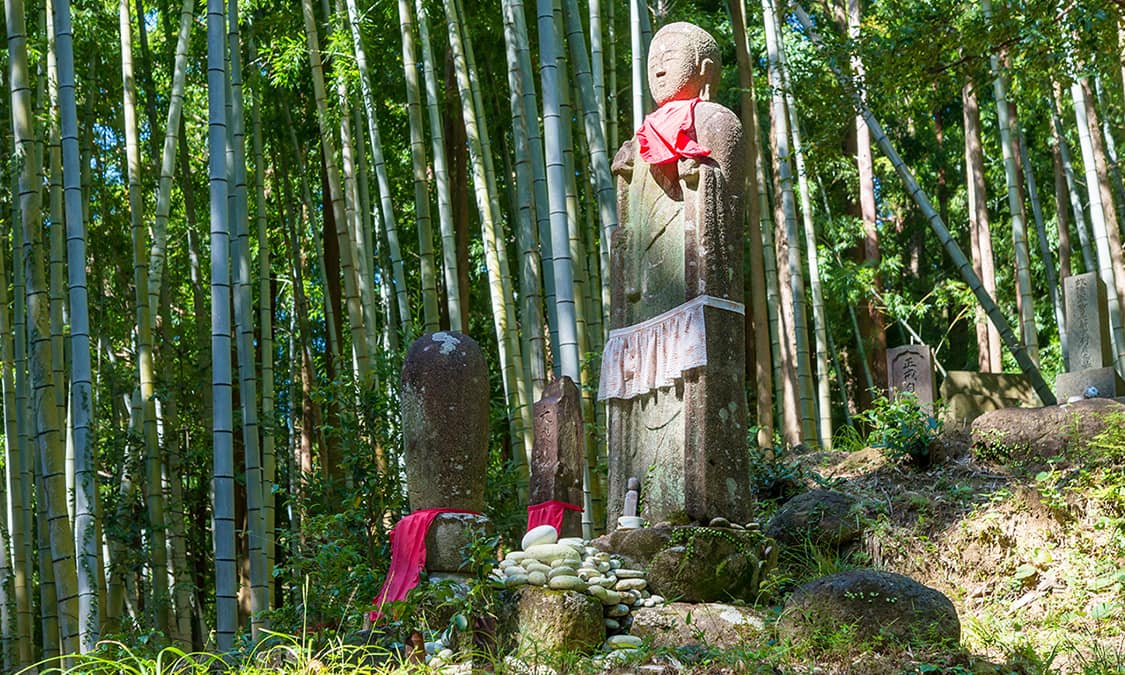 A 180-cm-tall Jizo guardian statue surrounded by a beautiful bamboo forest welcomes hikers at the top of Matsumoto-toge Pass. If you look closely, you can spot a gunshot mark on his left hem. Legend has it that long ago, a sharpshooter hunter went over the hill early in the morning on the day the statue was erected, and on his way back, upon seeing the statue appear out of nowhere, mistook it for a phantom and shot at it.
Located approximately five minutes on foot from the Jizo statue, the gazebo offers a splendid panoramic view of the World Heritage site Shichiri Mihama Beach. Truly beautiful so as to release all your travel fatigue away, the bow-shaped coastline leads to the sacred Kumano Sanzan, the three grand shrines of Kumano and the pilgrimage destination. Shichiri Mihama Beach, stretching approximately 22 km, is the longest sand beach in Japan and registered as a World Heritage site as Hama-kaido Route. The beach is also known for the loggerhead sea turtles that come on shore.
Location
Name
Kumano Kodo Iseji Route Matsumoto-toge Pass
Web Sites
http://www.kodo.pref.mie.lg.jp/en/course/17.html
Address
Kumano-shi, Mie
Access
Accessing the entrance of Matsumoto-toge Pass (Odomari side):
Approximately 10 minutes' walk from Odomari Station on the JR Kise Honsen Line
Approximately 3 minutes' drive taking National Route 42 from Kumano Odomari IC on the Kumano-Owase Road
Inquiries
TEL: 059-224-2193