A cat paradise where the Cat God lives
Tashiro-jima is a small island located 17 kilometers southeast of Ishinomaki City in Miyagi Prefecture. On this small island, more than 100 cats live harmoniously with the local residents. The island is very popular among cat lovers as "Cat Island," referring to the fact that there are more cats than humans living on this island. In Tashiro-jima, cats have long been cherished by fishermen as a lucky animal for a good catch. There is also a Cat Shrine that enshrines a cat, which is affectionately known as the "Cat God."
Cat Shrine enshrines the Cat God
Tashiro-jima has a vibrant fishing industry, and it is said that fishermen used gestures of cats to predict the conditions of weather and fishing. For that reason, cats have been cherished as a lucky animal for a good catch, and Cat Shrine was founded to pray for a good catch and the safety of cats. Today, many cat figurines and cat toys are placed as offerings around the small shrine.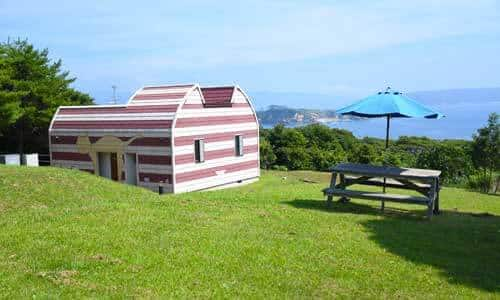 Manga Island is a manga-themed campground associated with Ishinomaki's city-planning project using manga. The fun facility includes five cabins designed with cat motifs by famous manga artists such as Machiko Satonaka and Tetsuya Chiba. Spend a relaxing time surrounded by the beautiful cobalt blue sea and nature. Cabins are fully equipped with a center house, commune space, kitchen building, toilets and showers.
Location
Name
Tashiro-jima Island
Website
(In Japanese) https://www.city.ishinomaki.lg.jp/cont/10053500/0050/3639/3639.html
Address
24 Shikishima, Tashirohama, Ishinomaki-shi, Miyagi
Access
Approximately 50 to 60 minutes by ferry from the Ajishima Line central dock
Approximately 45 to 60 minutes by ferry from the Ajishima Line Kadonowaki dock
Inquiries
TEL: 0225-95-1111 (Ishinomaki City Industry Division Tourism Department)
Others
For ways to access Tashiro-jima, please see the website for the Ajishima Line, which operates ferry routes for the area's remote islands.