A famous historic hot spring resort, loved by Lord Masamune Date, a daimyo of the Sendai Domain, located in an amazing natural environment with many scenic spots
Akiu Onsen is a well-known historic hot spring resort in a beautiful natural setting only 30 minutes from Sendai City. Located in a valley by the Natori River, this resort is recognized as one of the top three hot springs in Japan. It is believed that an Emperor was once cured from a disease with water from this hot spring, and the resort was visited by feudal lords from the Date family, including Masamune.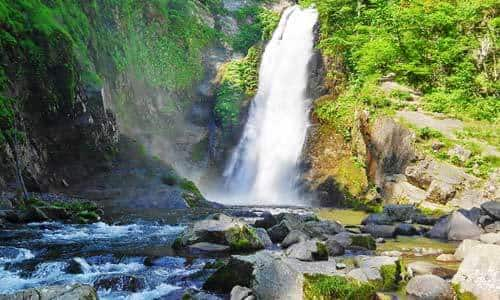 Akiu Waterfall in the Futakuchi area
This powerful waterfall, at a height of 55 meters and a width of 6 meters, is listed among the top 100 waterfalls in Japan. It is possible to view it not only from the observation point but also at a spot close to the basin. This area, called Futakuchi, has a host of other amazing natural features as well, including the massive 80-to-150-meter-tall Banji-iwa rock walls that stretch about 3 kilometers and Futakuchi Valley consisting of many waterfalls and deep pools. This area has a lot to offer with its picturesque seasonal beauty.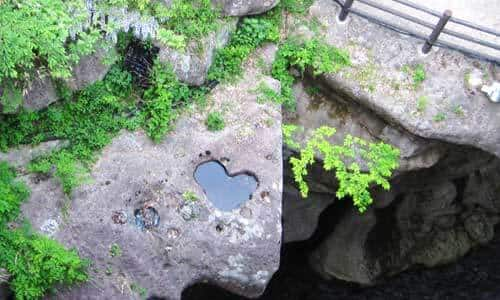 Nozokibashi Heart and Rairaikyo Gorge
Rairaikyo Gorge is located on the Natori River and is known for its clear water and a number of oddly shaped rocks. Traversing the river is the Nozokibashi Bridge from which you can see a natural, curiously heart-shaped indent in a rock. This spot is now known as the Nozokibashi Heart and has been designated a romantic place by the Lover's Sanctuary Project. There is an approximately 650-meter pathway, starting at the bridge, for visitors to view the array of stunning natural features, including Kimen-iwa Rock, Hachiken-iwa Rock, the Shiguretaki Waterfalls and the Misujitaki Waterfalls.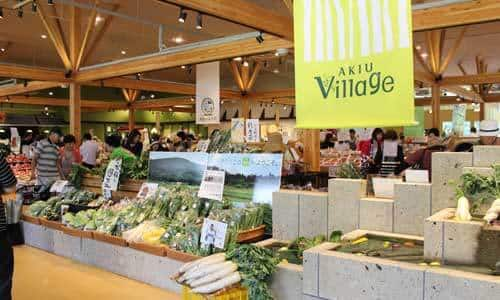 There are a great many attractions for visitors to enjoy in this hot spring resort area. If you are seeking a fun leisure experience, there is Akiu Village, which has a food market, food court, farming experience and foot spa, all spread out over a vast area. Akiu Craft Park is ideal for learning about and experiencing traditional local craftwork, and Saichi sells Akiu's famous "ohagi" (sticky rice balls coated with sweet red bean paste). For a more gourmet experience, try the Akiu Winery and Akiusha restaurant.
Location
Name
Akiu Onsen
Website
http://www.akiuonsenkumiai.com/en/
Address
40-7 Teradahara, Yumoto, Akiu-machi, Taihaku-ku, Sendai-shi, Miyagi (Akiu Tourist Information Center)
Access
From JR Sendai Station, take a bus for approximately 50 minutes and get off at the Akiu-onsen Yumoto bus stop.
From JR Sendai Station, take a bus (Akiu-Kawasaki Sendai Seibu Liner) for approximately 30 minutes and get off at the Akiu-sato Center bus stop.
Approximately 30 minutes' drive from JR Sendai Station
Business Hours
Differs depending on facility.
9:30 to 18:00 (Akiu Tourist Information Center)
Closed
Differs depending on facility.
Inquiries
TEL: 022-398-2323 (Akiu Tourist Information Center)
Admission
Differs depending on facility.