Minamisanriku Sun Sun Shopping Village

A shopping village offering a huge variety of Minamisanriku food prepared by friendly and resilient local people with smiles as bright as the sun
This shopping village, originally established following the Great East Japan Earthquake in 2011 as a set of temporary buildings, was officially opened on March 3, 2017. There are 28 shops and restaurants that offer delicious local food from Minamisanriku. This one-story building was made from Minamisanriku cedar and designed by renowned architect Kengo Kuma. You can especially enjoy shopping and eating fresh seafood at this amazing seafront location. Don't miss the famous Minamisanriku Kirakira Don Rice Bowl.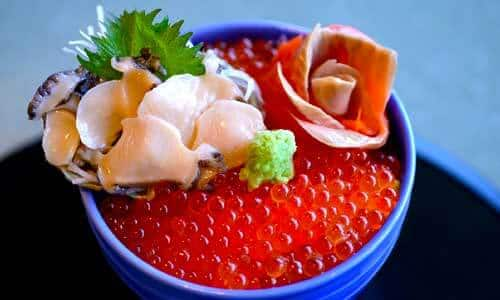 Minamisanriku Kirakira Don Rice Bowl
This rice bowl contains a generous amount of fresh seafood sourced from the local market. Four varieties are offered according to the season, for example, one featuring sea urchin in the summer and another featuring salmon roe in the winter. Each restaurant serves their own original versions as well as different kinds of side dishes. Enjoy this popular iconic local specialty with both your eyes and tongue.
Location
Name
Minamisanriku Sun Sun Shopping Village
Website
(In Japanese) https://www.sansan-minamisanriku.com/
Address
201-5 Shizugawa Itsuka-machi, Minamisanriku-cho, Motoyoshi-gun, Miyagi
Access
Approximately 5 minutes' drive from the Shizugawa IC on the Sanriku Expressway
Short walk from Shizugawa Station on the BRT (Bus Rapid Transit)
Inquiries
TEL: 0226-25-8903